Senior Kaely McKinney pursues cheer at collegiate level
Captain of the cheerleading team, senior Kaely McKinney, has had a passion for her sport since her middle school days.
"I used to see all of the cheerleaders on the sides and I wanted to be just like them," McKinney said. "So I just decided to go for it."
McKinney attributes her inspiration for joining the cheer team to the cheerleaders that were older than her.
"They really all just encouraged me to join," McKinney said.
Last year, McKinney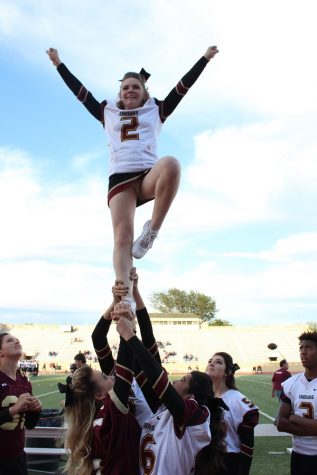 made All-American Cheer and received a gold ribbon at cheerleading camp.
"The team and I don't really compete all that much," McKinney said. "But, when we cheered at Dodge City last year for Tournament of Champions, it was incredibly cool to experience that."
Her favorite part of cheer, McKinney said, is stunting.
Stunts are defined as building performances displaying a person's skill or dexterity. Stunting in cheerleading has been previously referred to as building pyramids. Stunts range from basic two-legged stunts, to one-legged extended stunts, and high flying basket tosses.
"I love learning new stunts," McKinney said. "But, I'd have to say my least favorite part of being on the cheer team would be the drama."
McKinney said she plans to continue with cheer in college, with plans to try out for the Fort Hays State University cheer team.
"I have lots of different plans for what I want to do with cheer after I graduate," McKinney said. "I also plan to try out for the Universal Cheerleaders Association cheerleading team, too."
Leave a Comment
About the Contributor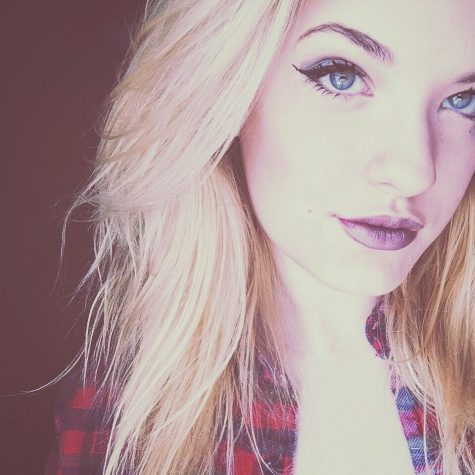 Anniston Weber, Co-Editor in Chief
Anniston Weber is Co-Editor-in-Chief of the Guidon and a senior this year. She has been involved with the Guidon for three years. In addition to being...