Varsity cheerleaders perform new routine at pep assembly
For each pep assembly, the varsity cheerleaders come up with a new routine to perform in front of the student body.
This year, serving as co-captains for the varsity squad are seniors Kaely McKinney and Isys Bearly.
Over the course of a month, the squad spent about 36 hours working on their routine.
"We have two hour practices after school three times a week," McKinney said. "Along with that, we had a few morning practices to prepare for our performance."
McKinney said she spent an additional five hours outside of school working the routine.
"My absolute favorite part of the routine was the senior stunt me and Isys got to do," McKinney said. "We got to showcase our skill during that. It wasn't the most difficult stunt but in my opinion it was definitely the best."
Bearly said the most difficult part of the performance was putting everything together.
"It took a lot of effort," Bearly said. "In the end, I'm really happy with how everything came together."
Sophomore Brittany Pflaum and junior Tara Hertel said they are very pleased with how the routine turned out.
"I wouldn't have changed anything," Pflaum said. "The only thing I would change is the fact that I still get nervous when performing. I don't want to mess up have everybody see it."
Hertel said she combats nervousness with confidence and familiarity.
"I'm used to performing in front of large crowds," Hertel said. "I used to do competitive dance, which taught me how to present myself while performing."
Sophomore Alyssa Underwood said she loves the rush of performing.
"The feeling you get after hitting your routine is like nothing else," Underwood said. "I also love getting to cheer for my school as well as being a part of a team that's as close as a family."
Junior Alliana Drees said being a cheerleader is a great way to get involved.
"I enjoy the atmosphere of our football and basketball games," Drees said. "I love the crowd's reactions to our stunts."
Leave a Comment
About the Contributor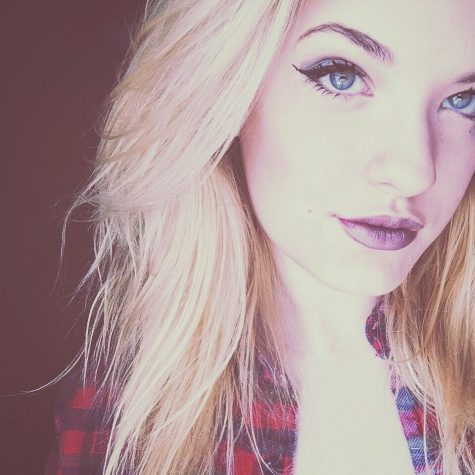 Anniston Weber, Co-Editor in Chief
Anniston Weber is Co-Editor-in-Chief of the Guidon and a senior this year. She has been involved with the Guidon for three years. In addition to being...