Students anticipate activities over Winter Break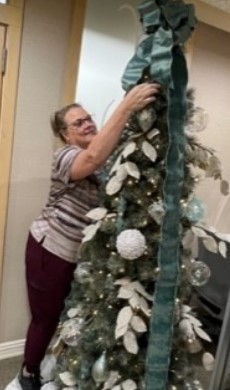 Waking up, looking outside and seeing the tree branches covered in crisp, fresh white snow. Running out the door to see what Santa brought you and your siblings. Seeing that the freshly baked cookies are half eaten and the milk is gone.
Hays High School students will begin Winter Break on Wednesday, Dec. 21 and will be on break until Wednesday, Jan. 4.
Many are excited for the break, especially for seeing family members who they have not seen for a while or traveling to different towns and states.
"I am traveling to Plainville to eat lunch and see my grandparents," freshman Kaleb Roe said.
Some families split up family time between their father's and mother's sides, and some even see family the weekend before or the weekend after Christmas.
"I see my dad's family the weekend before Christmas; we travel to Smith Center to see them," freshman Oaklye Wichers said. "My mom's side is on Christmas Eve and Christmas Day."
When it comes to Christmas holidays, favorites vary, such as music, food and especially desserts.
"Nothing beats sugar cookies," Wichers said. "My grandma makes the best sugar cookies that you can find."
With finals exam days on Monday, Dec. 19 and Tuesday, Dec. 20, students and staff are looking forward to the break.
26brhoades@usd489.com
Leave a Comment