Boys swim places fourth at Salina South
The boys swim team competed against six other teams at Salina South on Feb. 5.
Hays High placed fifth out of seven teams.
Senior Isaac Smith qualified for state in both the 100 butterfly and the 100 breaststroke events.
The 200 Medley Relay of senior Marshall Perryman, senior Isaac Smith, freshman Greyson Walburn and senior Matt Goodale earned state consideration.
The 200 Freestyle Relay of freshman Grayson Walburn, senior Matt Goodale, sophomore Aidan Debey and senior Isaac Smith also earned state consideration.
Other results are as follows:
200 Medley Relay – Marshall Perryman, Isaac Smith, Greyson Walburn and Matt Goodale (1:58.44) for fifth, Aidan Debey, Chris Goodale, Zachary Smith and Carson Ackerman (2:15.54) for 10th, Evan Dealy, Fernando Zarate, Dustin Rajewski and Andrew Prine (2:37.73) for 14th, Liam Buller, Ashton Bickel, Kaden McBride and Jude Tippy (DQ)
200 Freestyle – Anthony Arial (2:33.27) for fourth, and Evan Dealy (2:43.14) for seventh
50 Freestyle – Grayson Walburn (26.56) for 10th, Carson Ackerman (31.11) for 21st, Matt Goodale (27.05), Aidan Debey (27.19), Marshall Perryman (27.48), Skylar Zimmerman (29.21), Fernando Zarate (30.09), Andrew Prine (33.33), Kaden McBride (33.47), Liam Buller (34.87), Dustin Rajewski (36.64) and Ashton Bickel (37.69)
100 Butterfly – Isaac Smith (58.28) for first, Anthony Arial (1:27.67) for sixth and Chris Goodale (DQ)
100 Freestyle – Matt Goodale (1:01.26) for 12th, Zachary Smith (1:06.83) for 15th and Evan Dealy (1:17.86)
500 Freestyle – Carson Ackerman (7:15.77) for sixth, Jude Tippy (7:19.47) for seventh and Dustin Rajewski (7:46.07) for eighth
200 Freestyle Relay – Grayson Walburn, Matt Goodale, Aidan Debey and Isaac Smith (1:42.48) for fourth, Zachary Smith, Chris Goodale, Skylar Zimmerman and Carson Ackerman (2:03.01) for 10th, and Andrew Prine, Fernando Zarate, Ashton Bickel and Anthony Arial (2:12.25) for13th
100 Backstroke – Marshall Perryman (1:13.65) for fourth, Grayson Walburn (1:18:34) for fifth and Kaden McBride (1:43.50).
100 Breaststroke – Isaac Smith (1:07.49) for first, Chris Goodale (1:29.05) for 13th, Andrew Prine (1:30.18) for 14th, Skylar Zimmerman (1:30.14), Fernando Zarate (1:31.37), Asthon Bickel (1:38.17), Jude Tippy (1:39.78) and Liam Buller (1:42.85).
400 Freestyle Relay – Skylar Zimmerman, Evan Dealy, Anthony Arial and Marshall Perryman (4:39.87) for sixth, and Dustin Rajewski, Kaden McBride, Liam Buller and Jude Tippy (5.34.78) for ninth.
21mmcbride@usd489.com
About the Contributor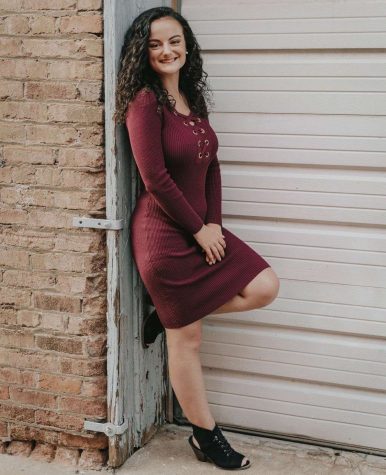 McKena McBride, Assistant/Online Editor
McKena McBride is a senior, and this is her third year in newspaper. She is involved in tennis, StuCo, National Honor Society, Leadership, Yearbook, Red...