Dog groomer Jessica Gabel offers advice to students on how to manage a small business
Jessica Gabel, owner of Pet Styles dog grooming service, came to speak with students during PRIDE Time on Oct. 30.
Gabel's job experience with dogs started when she was attending Hays High. She would clean kennels at the Hays Veterinary Hospital in the mornings before coming to school. Gabel said the job helped her learn a lot about dog behavior.
Before she started managing her independent grooming business, Gabel studied Chemistry, Physics and Animal Science in Manhattan, Kan., while working as a corporate groomer at PetCo. When Gabel first returned to Hays, she kept getting asked to groom dogs.
"I realized that I could make money, watch my kids, work from home and manage my own schedule," Gabel said. "I didn't necessarily choose to be a dog groomer. It was just one of those things that fell into my lap. I did it to make some money while I was going to college, and it was very efficient, I was good at it and I was very good with people."
Gabel currently grooms about 60 dogs a week in her basement that she transformed into a dog grooming studio. Gabel said that owning and running a grooming business is nice, but it requires self-discipline.
"You have to be able to manage your time and manage your money," Gabel said. "You have to manipulate hair and know what you're doing. You also need to update your equipment. It's a lot of work, but if you have a knack with other people's animals, it can help you."
According to Gabel, the best thing to do is start at the bottom and learn the basics. From there, it is about finding your niche. She said it is also very important to learn to manage people as well as you manage their animals.
"If people don't like you, then they're not going to bring their dogs to you," Gabel said. "If you can't explain to people why you had to make certain decisions while trimming their dog, then it makes no sense for them to return to you."
Gabel said that she had "a force of nature" mother to help her develop her social skills and stand up for herself when necessary.
"If you put yourself in situations where you have to deal with people, it will help you in the long run whether you choose to go to college or not," Gabel said.
Gabel said that most dog groomers only do about five dogs a day. She currently does 22.
"If you think you want to work with animals, do the grunt work," Gabel said. "Do the early mornings. Get a job where you can watch different aspects of what you want to do. When I first came back to Hays, I was only doing four dogs a day because I had to get used to doing it without an assistant or someone to answer my phone. Get to a comfort level and then push yourself. If you're not pushing yourself every time, then you're wasting your time."
21cleiker@usd489.com
About the Writer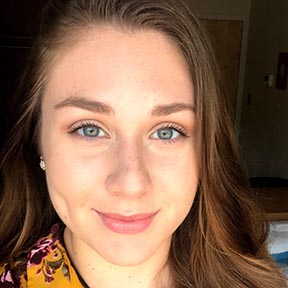 Caitlin Leiker, Copy Editor
Caitlin Leiker is a junior, and this is her second year in newspaper. She is involved in Chamber Singers, Musical, Spring Play, swimming, Leadership Team...