Army Ranger and author of 'War Story' Steven Elliott shares life journey with students
Army Ranger and author of "War Story" Steven Elliott, a 1999 Hays High alum, visited students and staff during PRIDE Time in the Lecture Hall on Nov. 26.
In April 2004, Elliott was deployed to Afghanistan with the 2nd Ranger Battalion to carry out "Operation Mountain Storm"– the objective being to capture or kill terrorist leader Osama bin Laden.
On April 22, 2004, Elliott's squad was divided, and his half was attacked by who they thought were enemy combatants. In reality, the oncoming soldiers were their own.
The unfortunate incident resulted in four casualties, one of whom was former NFL player Pat Tillman.
Once the Army had declared the act as "friendly fire," Elliott wrestled with the fact that the shots from his gun might have been what killed Tillman.
The war had come home with Elliott. In an attempt to relieve himself of the memories, the guilt and the depression, he turned to alcohol to try to erase what had happened.
In an interview with Tyndale House Publishers, Elliott said, "It was the point when you're pulling a handgun out of your gun safe at home and just thinking about the fact that this could all be over really easily. Not because I didn't have things I wanted to live for, but because I didn't know how to rest. I didn't know how to make it stop."
But, Elliott did not give in. That day in the Lecture Hall, he shared his virtues with the students: discipline, perseverance and hard work.
"If you're sitting and waiting for things in life to get easy, sitting and waiting for the thing that you want to do to just come out and kiss you on the mouth, consider this your kick in the pants," Elliott said. "Consider this the day that you start doing the next hard thing."
Elliott also took the time to share his failures.
"They include, but are not limited to, believing the lie that I had to do life on my own; that I, and only I, could fix my problems," Elliott said. "Believing that if people really knew who I was and what I did, that they'd reject me. Believing that I was not fit or worthy to exist. Believing that I was always sick, that the nightmares wouldn't stop. Believing that God didn't love me, because if he did, why did he allow this to happen?"
Elliott said those lies were best answered with an African proverb, which translates to English as "I am because We are."
"We live in one of the most highly individualistic cultures on the planet in history," Elliott said. "It is up to you, it is up to your work, it is up to your smarts, and 'You better figure it out.' 'Better figure out where you want to go to school.' 'Better figure out if you want to take that scholarship.' You are assaulted with decisions at the age you are at. I didn't know about college unless I got something in the mail from them."
However, even through the thick cloud of weighted decisions and modern distraction, Elliott said the virtues he presented are still relevant. He said that the strength of the individual is directly proportional to the strength of the community, and that the strength of the community is directly proportional to the individual.
Elliott said that adulthood does not come with the right house, the right job, the right car or the right marriage.
"I would argue that the true mark of adulthood and the true mark of maturity is when most of our effort and concern is focused on the needs of others instead of ourselves," Elliott said.
Elliott said his journey into the Army started after 9/11. Those attacks became personal, just like the attack on Pearl Harbor became personal for Elliott's grandfather. Elliott longed to serve his country selflessly as his grandfather had done before him, but he said he also joined for a somewhat-selfish reason.
"The other part of me wanted another bullet point on my resume," Elliott said. "I wanted to prove to myself and to the world that I was a man. I figured that by joining the Army – by joining the Rangers, by fighting in combat — I'd know that I was a man. I didn't put it in those words at the time. My thought process wasn't quite that obvious, but there was very much a drive in my heart."
To the young men in the room, Elliott said this:
"You want to prove yourself? You want to demonstrate the highest level of strength the world could ask for? Do this: Care for those weaker than you. Submit your strength, whatever it is – whether it's the strength of your mind, or the strength of your back – for others."
21cleiker@usd489.com
About the Contributor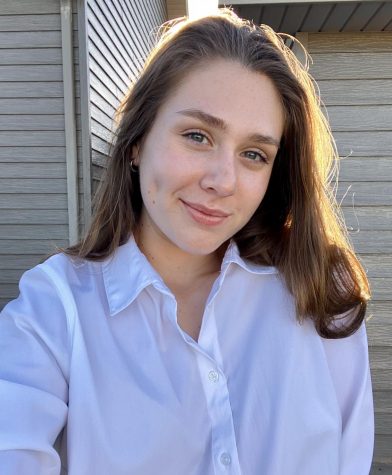 Caitlin Leiker, Assistant/Online Editor
Caitlin Leiker is a senior, and this is her third year in newspaper. She is involved in Chamber Singers, Musical, Spring Play, National Honor Society,...