Youth Pastor Dustin Mulkey helps lead students to career paths
North Oak Community Church Youth Pastor Dustin Mulkey presented to students in Gym B during PRIDE Time on Oct. 24.
Mulkey said that being a youth pastor is a fun environment for his personality type because he has a lot of freedom, and every day looks different.
"Some days I do normal youth ministry stuff like having a youth group time or helping with church programming, but other times there are more one-on-one conversations with students," Mulkey said.
One of his primary objectives as a youth pastor is helping students figure out what their future looks like based on their interests.
"I think that each of us has different gifts and abilities and talents that can help us in the career where we decide to go," Mulkey said.
When Mulkey first graduated high school, he didn't go to college.
"By the Spring of my senior year, I had no idea what I wanted to do," Mulkey said. "When it finally came down to it, I didn't want to spend a bunch of money studying something I didn't know that I wanted to go into. Your career path is potentially what you'll be doing for the rest of your life, so you really want to make that decision with wisdom."
So, he took a year off to work and discern what his future would look like. With this time, he was able to uncover new interests and talents that benefited him.
Mulkey said that he's happy to work in Hays and be an influential voice for young members of the community. When Mulkey was in high school, he said the most influential voices in his life were a few of his teachers at Hays High and his youth pastor at his church.
"That's why I took to the idea of youth ministry," Mulkey said. "I knew that it was significant in my life, and I wanted to be that for the people."
Being a youth pastor often entails a lot of sporadic work hours both in and out of the office, but he said that helping people overcome their struggles is really rewarding.
Mulkey said one of the favorite parts of his job is getting to watch the growth and development of the students' characters and minds throughout their lives. When it comes to figuring out the future, he said that he doesn't want seniors to feel overwhelmed if they still haven't reached the end of the tunnel.
"Just take a breath and take some time to do some heart-checking to see where your gifts are and what might be helpful to you," Mulkey said.
A big tip for students is to find something that interests them outside of their job. In his free time, Mulkey plays guitar and volunteers at Breathe Coffee House once a week because he loves coffee and the positive message of faith they spread.
"It engages different parts of my mind that are otherwise not engaged," Mulkey said. "As people, we are always processing; we are always learning and growing. If you're stuck doing the same thing all the time, then you won't be growing into the person that you could be."
21cleiker@usd489.com
About the Contributor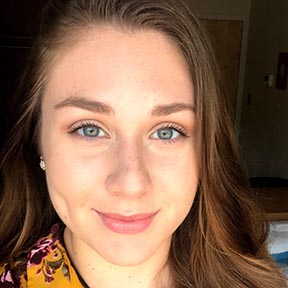 Caitlin Leiker, Copy Editor
Caitlin Leiker is a junior, and this is her second year in newspaper. She is involved in Chamber Singers, Musical, Spring Play, swimming, Leadership Team...