Underwood brings changes to vocal department
Hang on for a minute...we're trying to find some more stories you might like.
Aug. 15, 2018.
That's the day Alex Underwood officially took on the daunting task of directing Concert Choir, Chamber Singers, Chorale, Full Chord Press, the Musical, and the boys and girls choirs at Hays Middle School.
"I'm happy with the pace at which we can work," Underwood said. "It's really a tribute to Johnny Matlock. He left this in such great shape that they all know what they're doing."
Underwood knew he wanted to be a choir director when he was a junior in high school after returning to his home in Russell from participating in KMEA All-State Choir. He described the experience as being "literally life-changing."
For the past six years, Underwood has worked with mostly college students and professionals at a very high level, so he's still adjusting to teaching high school and middle school students.
The most notable changes Underwood is bringing to the vocal department pertain to the Chamber Singers, one of these being the change of the singers' attire. The boys will be dressed in all black with maroon ties, and the girls will be in black jumpsuits.
Underwood made this change for a number of reasons, the most notable being price.
"I just came from spending a year working in Denver with two or three of the public high schools, and I saw that in some of the schools, being involved in music was only something for wealthy families," Underwood said. "I don't want any student at Hays High School to think they can't be in choir because it's too expensive."
The Chamber Singers have mixed feelings about the changes being made, but the majority of them are optimistic about their director's new ideas. The girls in particular like that they can now show off their own style instead of trying to fit into the same style of dress.
"I'm excited to switch it up a bit," senior and three-year Chamber Singer member Hannah McGuire said. "I didn't mind the outfits before, but I know a lot of people had trouble with sizing issues. It's really cool to be able to pick what we like while still matching the rest of the choir."
Some of the girls, like junior and first-year Chamber Singer Sierra Adkins, prefer the red dresses instead.
"The sparkly uniform dresses brought the group together and added a professional look," Adkins said. "I think that the dancing and the dresses brought a level of awe to the choir that will no longer be there."
Underwood said he wants Chamber Singers to get out there and be the best version of themselves that they can be, and he believes that their clothes are a huge part of that.
"Everybody needs to feel great in the way they look, and if your clothes don't fit you, or you don't feel comfortable in them, how are you going to be vulnerable and go and sing in front of a bunch of people when you're self conscious?" Underwood said.
Another huge change that is being made to Chamber Singers is that there will be no Dinner Show this year.
When Underwood took the job, it wasn't originally on his agenda to change Dinner Show, but the staff and parents agreed that Dinner Show had become too much to handle.
"I don't want the narrative to be we axed Dinner Show, but I want it to be we're doing Spring for Music instead," Underwood said.
Former director Johnny Matlock agreed it was time for a change.
"In fact, I was talking about it with Chamber Singers last year that it was time to change Dinner Show, so I think it's good," Matlock said.
Spring for Music will be a spring music festival that will feature four different concerts. The first two will be pop concerts, and the second two will be classical repertoire.
Some of the details, including the dates of these concerts and the performance venues, are yet to be determined. Different foods and drinks will be available at each concert with a donation to the music department.
The first concert will be an Ensemble Pops concert at the Fox Theater, in which Concert Choir, Chamber Singers, Jazz Band, and a small orchestra group will perform.
The second concert will be a Cabaret Night, and is planned to be held in the ballroom in the  Memorial Union at Fort Hays State University. This is where all the pop solos and small pop ensembles from Dinner Show will go. There may also be a few instrumentalists performing that night.
The third concert will be a classical concert during the Hays Arts Council Spring Art Walk that will feature the solos and ensembles of those who have excelled at contest. Underwood has also asked the art teachers to collaborate with their students for this concert.
"They do an art show at Fort Hays and they get judged," Underwood said. "I was thinking that we'll have the art people with their best ratings and us music people with our best ratings, and hopefully we'll get together at the Hays Public Library in their gallery space."
The majority of Chamber Singers agree that Underwood's ideas have a lot of potential if he can pull them off.
"Although I was a little upset with the changes of Dinner Show, I'm excited to see how this year plays out," senior and first year Chamber Singer Garrett Cole said. "I hope it all works and continues to work years down the road."
21cleiker@usd489.com

About the Contributor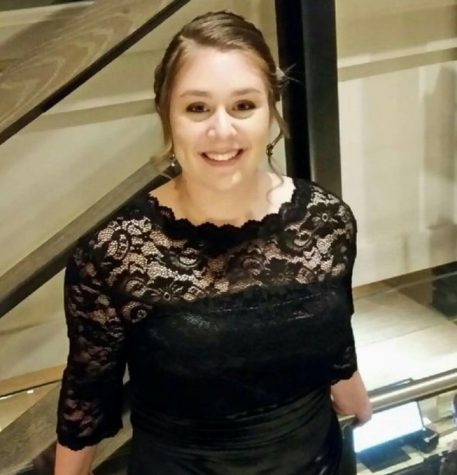 Caitlin Leiker, Staff Reporter
Caitlin Leiker is a sophomore, and this is her first year in newspaper. She is also involved in Chamber Singers, Musical, and Spring Play. Outside of school,...