Chamber Singers in charge of Fall Concert
Hang on for a minute...we're trying to find some more stories you might like.
Vocal director Alex Underwood has put the Chamber Singers in charge of organizing the Fall Benefit Concert taking place at 7 p.m. on Oct. 15 at Beach Schmidt.
The beneficiary is a nonprofit project of the JED Foundation called Love is Louder, which was started by actress Brittany Snow with the help of MTV in 2010 after the lives of multiple teenagers were lost to suicide.
The mission of Love is Louder is "to amplify a simple message – love and support are louder than any voice that tries to bring us down."
Underwood has done a variety of benefit concerts with a variety of themes during his time teaching in Russell, but is not yet sure if he wants to make these concerts a regular thing for Hays High.
"The students have ownership and agency over the nonprofit that we choose, and I think that process is really interesting and it builds investment from the students," Underwood said. "In a way, it adds a more significant purpose than it just being another concert, and I'm all about that."
Money donated to Love is Louder goes back into the JED Foundation to help people with issues regarding mental health, body image, substance abuse, self-harm, and many others.
Their website provides ways to cope with these issues if you're struggling with them yourself, and also how to help someone you know who may be going through the same problems.
The JED Foundation was founded by Donna and Phil Satow after their youngest son, Jed, was lost to suicide in 1998, so they wanted to do all they could to prevent the same thing from happening to others.
Junior Hanna Dannar is working together with the money collection team to figure out the best way to collect donations for the concert, and she personally believes that everybody should have a safe place to express themselves.
"To me it is a way for us to really show that we as a group are about more than just singing,"  Dannar said. "It shows that we want to be difference makers in the world. It also shows that we are willing to step up and actually do something that will help fix the problem rather than stand by and let it continue to happen."
Senior Cade Swayne is on the video production team that will interview classmates to give advice to kids being bullied in school or on the internet. Swayne said he hopes to give kids more options to help resolve bullying.
"I believe it is great to show that our music industry supports anti-bullying," Swayne said. "The charity we chose is a very valuable charity. The message they are trying to express is to be together, and I feel that is very important to keep in mind."
Students are encouraged to wear blue on Oct. 1 for National Bullying Prevention Day. According to the Stomp Out Bullying website, blue was chosen because the color symbolizes peace in many different cultures. The color is also meant to convey importance and confidence.
"I think it's a way for us to engage with the rest of the Hays High population, and maybe even other organizations who are trying to solve the same problems as we are," Underwood said.
Underwood knows bullying is an issue at every school to some degree, and is hoping that this project will help him better understand the culture of Hays High and its students. He had no hesitation in choosing antibullying as his theme for this benefit concert.
"I want my classroom to be a safe space for students of any type so that no one feels uncomfortable or intimidated, or worse, unsafe. It allows me to set the tone for the things that are important to me."
21cleiker@usd489.com

About the Contributor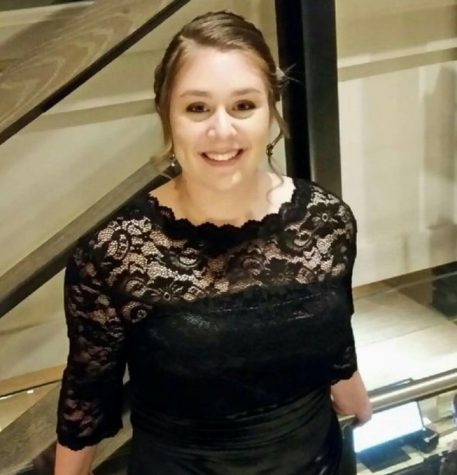 Caitlin Leiker, Staff Reporter
Caitlin Leiker is a sophomore, and this is her first year in newspaper. She is also involved in Chamber Singers, Musical, and Spring Play. Outside of school,...