Chamber Singers hold Q&A with gospel music specialist
During class on Sept. 12, the Chamber Singers held a Q&A session with Vinroy Brown, a professor of sacred music at Westminster Choir College and the conductor of the Westminster Jubilee Singers.  
Together, they discussed the nature of gospel music and how it relates to the theme of "Storms" in order to prepare the Chamber Singers for their performance at this year's Fall Benefit Concert. 
"In early American history, spirituals were born out of overcoming struggle," Brown said. "As we move along to the 1900s, jazz and the blues become a thing. The jazz players that would play in clubs on Saturday nights would show up to church on Sunday morning and would forget to not play jazz in church. That's where gospel music comes from." 
He said one of the most important parts of performing gospel music is doing it with intent. He said that another is remembering to stay loose, relaxed and in the moment, and that "Mr. Underwood shouldn't be the only one obnoxiously moving." 
"You can't sing this music and not physically react to it," Brown said. "If we took the words out and added some horns, we could dance to this stuff in the club." 
What started you on your musical journey? What made you realize that you wanted to pursue music for the rest of your life? 
"I am a first generation American," Brown said. "My parents are of Jamaican descent. I grew up in church. My uncle was my pastor, and he's now a bishop, and I have aunts and uncles who are all ministers. I've been singing in choirs at church since I was 3 or 4 years old, so I kind of grew up with gospel music. I didn't actually realize how important my gospel upbringing would be for me professionally and personally until I got to Westminster Choir College, which is where I met [vocal director] Alex Underwood. The need for me to invest myself and explore this music style led me to the Jubilee Singers, which was a choir who performed all African American music, including gospel. That, very quickly, became my outlet to express myself spiritually on campus. Not that it wasn't accomplished with the other choirs, but the other choirs weren't into gospel. Jazz was also a heavy part of my upbringing. The people who played gospel in my church on Sunday mornings all had gigs at jazz clubs until 4 or 5 a.m. So, I grew a really deep appreciation for understanding what the music meant." 
What are some of your favorite parts about gospel music? 
"Gospel music is a personal thing that you just happen to have in the presence of other people," Brown said. "When you're singing this style of music, it has to mean something to you. It doesn't have to mean the same thing across the board. Gospel music isn't for one particular race to sing. It is open to anyone who wants to explore it. You can't assume everyone is religious or believes in Jesus or God, but everyone can have some kind of storm or something that they can overcome. Whatever makes it individual for you will make it universal for the group. It's all about the delivery." 
What's something that you wish people knew more about in dealing with gospel music? 
"I think it's important for people to realize that gospel music, spirituals and music of the African American experience should be studied the same way we study Bach and Palestrina and Mozart and Beethoven," Brown said. "It holds the same kind of value. All music does is steal things from other music. When I listen to Bach, I hear jazz. When I was starting to learn chord progressions in gospel, I thought, 'I heard that in a Beethoven thing I saw before.' It's because there is nothing new about music. All of it has come from somewhere that we can identify. Gospel music is an art form that truly allows you to be yourself. You can only deliver gospel music effectively when you are being genuine to who you are as a person." 
Do you have a favorite gospel artist? 
"I like '90s Kirk Franklin," Brown said. "John McReynolds is on my list. I've always loved the Clark Sisters. They are on my list for all time. Today's gospel music is just not as choir centered as it was in the '90s, '80s and '70s, but that's a whole other conversation. Also, any time Fantasia sings gospel, I will listen to it." 
Are there any challenges that you come across when trying to teach gospel music? 
"Not everyone is comfortable learning by rote, or learning music without having the sheet music in front of them," Brown said. "So, for choirs, that can become a challenge. I think that's why a lot of teachers won't do gospel. Or maybe they don't know that you can actually get sheet music for some gospel songs nowadays and learn that way. I also think the range is something that can be difficult. If you know anything about gospel, you know that the sopranos, altos and tenors are featured most times in inverted chords. These voice parts, especially the tenors, need to know how to sing in a higher part of their voice. Not everyone can navigate that. Also, not everyone is comfortable singing in a style that they don't do all the time. In gospel music, you should be using a nice mix between your belt and your head voice. In some instances, you need to use full chest voice. Not everyone is comfortable doing that, depending on how much exposure they've gotten to the style beforehand." 
When teaching by rote, do you teach each part separately, or do you let the choir improvise the harmonies? 
"Most times, gospel music works in parallel motion, which means that the chords move up and down together," Brown said. "So, if I teach the soprano line, I usually pick the alto line, and they move together. A choir that is used to learning gospel might be able to pick up those parts automatically. However, if a choir is learning something that they're not used to, or if they're just not used to the gospel style, then I will teach each part. I like to make everyone sing all of the parts. There might be times in a song when I look at someone, maybe the altos, so they have the power they need to have. Then, I might point to a tenor in the middle of the song as if to say, 'Hey, go sing the alto line real quick,' and he would know it. There's some level of improv, but for the most part, I teach all the parts pretty standard." 
How do you put your own spin on gospel music while still respecting the style and where it came from? 
"To me, the answer is simple: the fact that you want to sing this music means that you already have a respect for the culture. As long as you are authentically true to yourself when you sing this, and you're not trying to be something you're not, you wanting to sing it is good enough. I wrestle with that a lot, and I understand your point. I think you just need to be yourself and sing." 
21cleiker@usd489.com
About the Contributor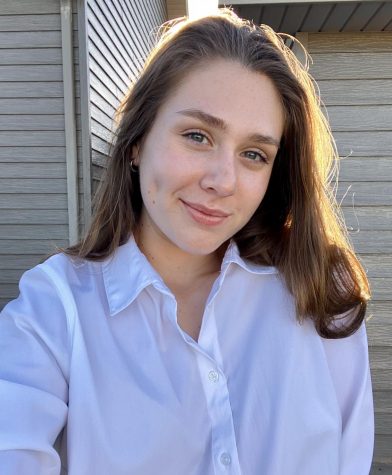 Caitlin Leiker, Assistant/Online Editor
Caitlin Leiker is a senior, and this is her third year in newspaper. She is involved in Chamber Singers, Musical, Spring Play, National Honor Society,...