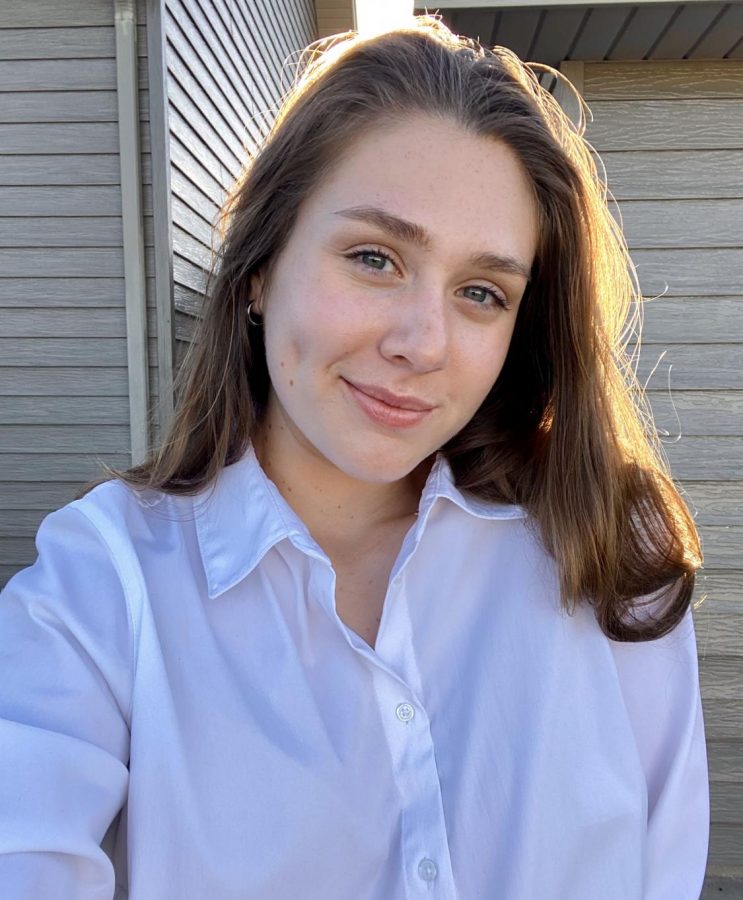 Caitlin Leiker is a senior, and this is her third year in newspaper. She is involved in Chamber Singers, Musical, Spring Play, National Honor Society, Leadership Team and Jazz Band. On the weekends, you'll find her teaching piano lessons, furthering her photography business (
https://caitlin-leiker.pixpa.com/home),
curling up with a book and a cup of coffee or watching Netflix.
Caitlin Leiker, Assistant/Online Editor
Dec 15, 2020

Chamber Singers begin recordings for virtual a cappella project

(Story/Media)

Dec 14, 2020

Chess Club competes against Cordley, students continue to hone virtual gameplay

(Story)

Nov 18, 2020

'The Trial of the Chicago 7' sends shockwaves across decades

(Story)

Nov 18, 2020

Freshmen health classes attend tobacco, Juul presentations in library

(Story/Media)

Nov 09, 2020

Chess tournament held online due to COVID-19

(Story/Media)

Oct 25, 2020

'The Social Dilemma' offers glimpse into surveillance capitalism

(Story)

Oct 15, 2020

Music Department settles into safe performances, as Orchestra Fall Concert held

(Story)

Oct 08, 2020

10 classic Halloween movies to get you into 'the spooky spirit'

(Story)

Oct 02, 2020

Changes to band bring more leadership opportunities

(Story/Media)

Sep 30, 2020

Senior Cabaret, Senior Recital set for students pursuing performance careers

(Story/Media)

Sep 19, 2020

Hays High principal recognized as Northwest Kansas KMEA Administrator of the Year

(Story)

Sep 14, 2020

Outlook crash disrupts students, staff communication

(Media)

Sep 10, 2020

Top 20 unique college majors

(Story)

May 08, 2020

Chamber Singers host Q&A with Lyric Opera of Chicago prompter

(Story)

May 03, 2020

KSPA adds at-home events to competition, releases state results

(Story)

Apr 20, 2020

Celebrating 50th Earth Day during COVID-19

(Story)

Apr 18, 2020

Memories of performing arts outlast pandemic uncertainty

(Story/Media)

Apr 08, 2020

Possible plans for 2020 Prom arise

(Story)

Mar 17, 2020

Update: 2020 Spring Play cancels public performances

(Story/Media)

Mar 10, 2020

Gender Sexuality Alliance holds bracelet-making day on March 10

(Story/Media)

Mar 07, 2020

2020 Spring Play cast prepares for first student matinee

(Story/Media)

Mar 04, 2020

Choir students perform in KMEA All-State Convention concert

(Story)

Feb 21, 2020

FHSU prepares Future Educators conference for high school students

(Story)

Feb 12, 2020

Chamber Singers 'spread the love' in Valentine's Day Cabaret

(Story)

Feb 07, 2020

Nex-Generation job trainer gives students tips, techniques for interviews

(Story)

Jan 30, 2020

Board of Education recognizes students, educators, discusses maintenance projects

(Story)

Jan 22, 2020

Spring Play kicks off 2020 season with read through

(Story)

Jan 15, 2020

'Twisted: the Untold Story of a Royal Vizier' to be performed Jan. 16-18

(Story)

Dec 24, 2019

Music Department's Winter Concert held at Beach/Schmidt

(Story)

Dec 13, 2019

Chamber Singers featured at 34th annual Cathedral Christmas Concert

(Story)

Dec 10, 2019

Students attend annual Northwest KMEA District Music Conference at FHSU

(Story/Media)

Nov 30, 2019

Army Ranger and author of 'War Story' Steven Elliott shares life journey with students

(Story)

Nov 25, 2019

Students wrap up 2019 Hays High Musical, 'Anything Goes'

(Story)

Nov 25, 2019

21st Century Journalism students host interviews, gain reporting experience

(Story/Media)

Nov 16, 2019

Debra Elston speaks with students about U.S. Department of Transportation jobs

(Story)

Nov 10, 2019

Students promote 2019 Hays High Musical, 'Anything Goes,' performances Nov. 14-17

(Story/Media)

Nov 06, 2019

Cast list for student-run musical announced

(Story)

Nov 01, 2019

Dog groomer Jessica Gabel offers advice to students on how to manage a small business

(Story)

Oct 28, 2019

Youth Pastor Dustin Mulkey helps lead students to career paths

(Story/Media)

Oct 21, 2019

Achieve team initiates pumpkin decorating contest during PRIDE Time

(Story/Media)

Oct 18, 2019

Leading Musical cast members perform for Hays Optimist Club, promote upcoming show

(Story/Media)

Oct 10, 2019

Music Department raises $500 during second annual Fall Benefit Concert

(Story/Media)

Oct 02, 2019

Travis Hageman answers student questions about firefighting

(Story/Media)

Sep 26, 2019

Annual KSPA Fall Conference educates, inspires student journalists

(Story/Media)

Sep 19, 2019

VFW offers scholarship opportunities for artists, writers

(Story)

Sep 16, 2019

Chamber Singers hold Q&A with gospel music specialist

(Story/Media)

Sep 15, 2019

Music Department prepares for second annual Fall Benefit Concert

(Story/Media)

Sep 11, 2019

Seniors earn scholarship opportunities through Dane G. Hansen test

(Story)

Sep 05, 2019

Musical opens 2019 season with informational meeting

(Story/Media)

Aug 29, 2019

Junior Caitlin Leiker submits KAKE Idol audition

(Media)

Aug 26, 2019

Chamber Singers strengthen performance for Homecoming Assembly

(Story)

May 14, 2019

This year's graduates offer up opinions on graduation parties

(Story/Media)

May 08, 2019

Students perform in Spring for Music finale

(Story/Media)

May 02, 2019

State Solo, Small Ensemble Festival Results announced

(Story)

May 01, 2019

Spring for Music Festival prepares for Cabaret Night, Pops Showcase concerts

(Story/Media)

May 01, 2019

Recent Hays High graduate returns to community theatre roots

(Story)

Apr 22, 2019

Chamber Singers continue rehearsals for acapella competition

(Story/Media)

Apr 09, 2019

Regional Solo, Small Ensemble Festival results released, students discuss experience

(Story)

Apr 05, 2019

Music directors comment on students' final preparations for regional contest

(Story/Media)

Apr 03, 2019

Puerto Rican musician Edgar René offers advice to budding performers

(Story/Media)

Apr 02, 2019

Orchestra hosts annual Ice Cream Concert

(Story/Media)

Mar 28, 2019

Chamber Singers hold Q&A with Little Match Girl Passion composer

(Story)

Mar 25, 2019

Chamber Singers to perform Pulitzer Prize-winning Little Match Girl Passion

(Story/Media)

Mar 22, 2019

First event of Spring for Music Festival set for last week of April

(Story/Media)

Mar 08, 2019

Concert Band, Jazz Band perform 32nd annual Popcorn Concert

(Story/Media)

Mar 01, 2019

Students participate in KMEA All-State Choirs

(Story/Media)

Feb 13, 2019

Spring Play cast persists through challenging rehearsals

(Story/Media)

Feb 07, 2019

Vocal director takes Chamber Singers to see 20th anniversary of RENT

(Story)

Jan 29, 2019

Music department prepares for contest season

(Story/Media)

Jan 25, 2019

Chamber Singers to compete in acapella competition

(Story)

Jan 18, 2019

Grammy Award-winning songwriter Monte Selby visits Chamber Singers

(Story/Media)

Jan 16, 2019

Chamber Singers host Stars and Stripes fundraiser

(Media)

Jan 12, 2019

First Spring Play practice takes place

(Story)

Jan 10, 2019

Sophomore wins 2019 Talent Show

(Story)

Dec 19, 2018

Music department holds annual Winter Concert

(Media)

Dec 10, 2018

KMEA All-State Choir results announced

(Story)

Dec 10, 2018

KMEA District Choir takes place at FHSU

(Story/Media)

Dec 05, 2018

Chamber Singers to perform at Matlock's studio for Winter Art Walk

(Story/Media)

Nov 30, 2018

Winter Sports Assembly takes place

(Story/Media)

Nov 28, 2018

Chamber Singers to perform 33rd annual Cathedral Concert

(Story/Media)

Nov 27, 2018

Spanish II Classes participate in Quinceñera

(Story)

Nov 07, 2018

Results of KMEA District Choir announced

(Story/Media)

Nov 04, 2018

KMEA District Choir auditions take place

(Story/Media)

Nov 02, 2018

Going behind the scenes with Musical's parent volunteers

(Story/Media)

Oct 26, 2018

Students prepare for KMEA District Choir auditions

(Story/Media)

Oct 24, 2018

Hays Symphony Orchestra to perform third Children's Halloween Concert

(Story/Media)

Oct 16, 2018

Fall benefit concert proves successful

(Story)

Oct 08, 2018

Underwood brings changes to vocal department

(Story/Media)

Oct 03, 2018

Chamber Singers in charge of Fall Concert

(Story/Media)

Sep 30, 2018

Students to collect shoes in Calista Isbell's memory

(Story)

Sep 20, 2018

What is POW/MIA Recognition Day?

(Story)

Sep 17, 2018

13 questions with sophomore Eliana Buller

(Story)

Sep 06, 2018

Students prepare for Musical auditions

(Story)

Aug 29, 2018

'Central Intelligence' definitely worth seeing

(Story)

Jun 14, 2018

Humans of Hays High

(Story/Media)