13 questions with freshman Sam Vesper
Freshman Sam Vesper is new student this semester.
Where did you move from?
I moved from Lyons, Kansas.
What brought you to Hays?
I moved to Hays because my mom got a really good job offer here at the hospital.
What is your favorite part about Hays so far?
There's a lot more things to do here compared to Lyons. It's a really diverse place with a lot of new things.
What's your least favorite part about Hays?
I don't know many people, at all. I lived in Lyons for 10 years so I new almost everyone so it's really different coming to a place where you do know anyone.
Do you like Hays High?
So far it seems alright.
What do you miss most about Lyons?
I miss knowing who everyone was when I went places and my friends that I have there.
How much bigger is Hays than Lyons?
Hays is a lot bigger than Lyons.  The population of Lyons was about 3500 and Hays has over 20,000 people so Hays is a big city compared to Lyons.
What are your hobbies?
Well, I like to play with my cat, which sounds really dorky, I like my cats and I like watching Netflix. I really don't like reading which is one of the most stereotypical hobbies. I also like to run.
What activities are you involved in?
"Back in Lyons, I was involved in Scholar's Bowl. I do track and I play the trumpet in band."
How long have you played the trumpet?
I learned how to play back in sixth grade.
Can you drive yet?
I can drive, but I can't drive myself to school 'till June which is kind of unfortunate.
What is your favorite class this year?
"Either band or art. I really enjoy both of those classes."
What's your favorite color?
My favorite color is blue, but more of like a pale blue not a dark blue.
21afeyerherm@usd489.com 
Leave a Comment
About the Contributor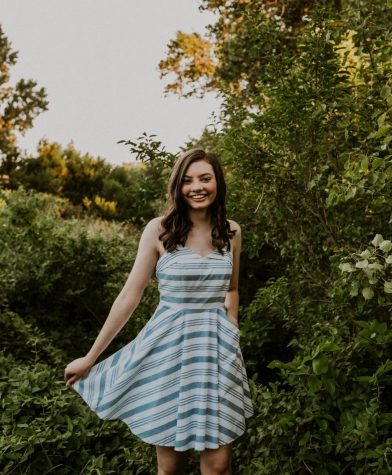 Alicia Feyerherm, Editor-in-Chief
Alicia Feyerherm is a senior, and this is her fourth year in Newspaper. She is very honored and excited to be in the role of Editor-in-Chief this year....