13 questions with senior Audrey Irvin
1.What are your plans after high school?
"I plan to attend the University of Kansas and major in psychology."
2. What has been one of your favorite memories at HHS?
"Some of my favorite memories of high school were cheering at the football games my junior year and making tons of new friends."
3. What is a talent you have wanted to try but haven't?
"I have always wanted to play soccer because I think that would be so cool, but I have never tried it!"
4. What degree will you pursue in college?
"Psychology."
5. What activities/clubs/sports have you been involved in while at HHS?
"Cheerleading, track, Red Cross Club, StuCo, National Honor Society."
6. Why do you feel you were nominated for Indian Call?
"I don't know… it was a complete shock to me."
7. Were you expecting to be Indian Call queen?
"Absolutely not. I was surrounded by the most amazing, genuine group of girls and was just honored to be a part of such an amazing thing with all of them."
8. Do you feel the dances have become less important to students this year with the changes that have been made? Why or why not?
"Yes and no. I believe many people would still love to have dances, but I think most of us have just accepted the fact that this year is different and are just grateful for what we do get to have!"
9.  Do you think COVID-19 is changing our world or people for the better. Why or why not?
"I think, in the long run, it will make everyone not take a lot of things for granted."
10. Thinking back to your freshman self, do you think you have changed much? Why or why not?
"Yes, I have changed in so many ways since freshman year. I used to not have as much confidence in myself, but I feel much happier and confident because of all the people around me who make me feel worthy."
11. Thinking back to your freshman self, are you happy with the choices you have made? Why or why not?
"Yes, because, if I wouldn't have made certain choices, I wouldn't be attending Hays High School, and I am so glad I was able to come here for school."
12. What advice would you give incoming freshmen?
"I would tell incoming freshmen to always believe in yourself, keep working towards your goals and never give up no matter what because it will all be worth it in the end."
13. What is the best piece of advice you have received?
"The best piece of advice I have received is from my grandma. She told me to always be kind to others because you never know what someone else is going through, but don't forget to be kind to yourself because you are doing the best you can."
23mtippy@usd489.com
Leave a Comment
About the Writer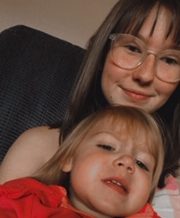 Maysyn Tippy, Entertainment Editor
Maysyn Tippy is a sophomore and second-year reporter for The Guidon. In her free time, Maysyn loves spending time with her amazing friends and family....