13 questions with sophomore Eliana Buller
Sophomore Eliana Buller traveled to the Pine Ridge Indian Reservation in South Dakota to volunteer for a week during the summer with North Oak Community Church.
What were some of the things you helped with while you were at the reservation?
"We helped the Lakota people there by building a wheelchair ramp for a disabled man, fixing fences, and doing yard work."
Was this your first time doing traveling volunteer work?
"Yes. This was my first mission trip and I absolutely loved it."
Who first got you inspired to volunteer?
"People who have inspired me to volunteer are people like my dad, my pastors, and other kids in my youth group."
What are some of the other volunteer projects your church has done?
"Last year my church went to the Dominican Republic and helped out the churches and communities, played with the kids there, and loved on the people. In Wichita, they pulled weeds, served food to the homeless, and talked and ate with them."
Where have some of the past projects been?
"We have also gone to Denver, Kansas City, Wichita and lots of other places to help out."
How often do these trips occur?
"We do a big mission trip once a year, and we do small ones that rotate all throughout the year. We take rural trips, where we volunteer in smaller towns in the U.S., urban trips, where we help out in places like Wichita and KC, and international trips like when we went to the Dominican Republic."
What's the farthest you've had to travel for volunteer work?
"South Dakota was the farthest I've ever had to go, which was 425.6 miles."
What are some volunteer projects you've worked on outside of your church?
"I've volunteered at nursing homes, homeless shelters and rescue missions, non-profit organizations, and other places.
Do you plan on continuing to volunteer?
"I definitely plan on volunteering in the future. It is so wonderful having the ability to serve others. It is not only a blessing to them, but also to you."
Why do you think volunteering is important?
"I think that the heart of leadership is service. You need to know how to serve others willingly and with a serving heart before you can lead them. Having a servant's heart is also what Jesus commands us to do in the Bible."
Are you thinking of making a career out of helping other people? What did you have in mind?
"Right now, I would love to be a physical therapist. I did physical therapy for 4 months and I loved it. I would love to help others gain strength and mobility and have them enjoy it as much as I did."
What are you hoping to teach people through your work?
"I would like to teach them that there is a way to get better and stronger, and through hard work and effort, they can do it!"
What are some words of encouragement for people who are thinking about volunteering as well?
"Don't be afraid to be different, and always be respectful. Respect the customs, traditions, and culture of the people you are serving.  Even though a joke might seem funny to you and others around you, it could be extremely offensive to the people you are serving. Go in with a good work ethic and a positive attitude."
Leave a Comment
About the Contributor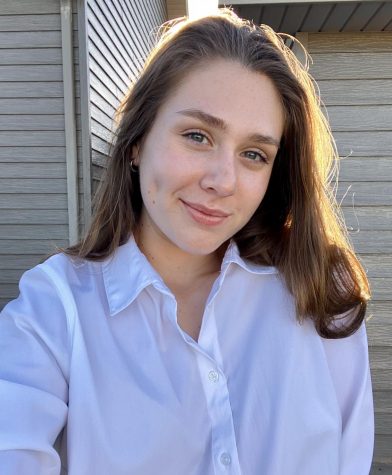 Caitlin Leiker, Assistant/Online Editor
Caitlin Leiker is a senior, and this is her third year in newspaper. She is involved in Chamber Singers, Musical, Spring Play, National Honor Society,...