Party Like It's 2014: Football wins WAC for first time since 2014
The Hays High Indians played the Dodge City Red Demons on Oct. 9 for the Homecoming football game. For the Indians, the Red Demons were the final Western Athletic Conference game of the season.
Hays High started the game with junior Dylan Dreiling running 79 yards to score. Junior Jaren Kanak ran an end around to push the lead to eight points within seconds of the competition starting.
The Indian defense proved to the Red Demons that they will control the trenches, stopping Dodge City's quarterback Alden Knedler on a fourth-and-short play. But, the Indians found themselves on the next drive turning the ball over in the Demons' red zone. Both teams traded unsuccessful drives for the rest of the first quarter.
In the second quarter, the Red Demons found themselves in another fourth down play, and the Indian defense proved again that it will not be beaten at the line of scrimmage, forcing a tackle for loss.
The Indian offense could not get anywhere on its next drive; junior Carson Kieffer punted the ball deep, pushing the Red Demons near their own goal line. The Red Demons called a time out; the Demons decided to run the ball out of the endzone for a safety, giving the Indians a 10-0 lead.
The Indian offense then made it a costly mistake for the Red Demons; junior quarterback Jordan Dale had a 38-yard pass to Kanak for a touchdown. Junior Jack Fields would push the lead to 17-0 after a successful PAT attempt.
The Red Demons substituted out their quarterback, but they fumbled in Indian territory. The Indians pushed the ball into Red Demon territory but were unable to score.
At half time, the Indians led Dodge City 17-0. After halftime, the Indians scored once more in the third quarter on an 18-yard run out for Dreiling, making the score 23-0.
Dodge City finally scored in the fourth quarter with a pass to wide receiver Matt Freiss, making the score 23-6. Junior linebacker Dalton Dale made a final statement for the Indians, as he would have an 81-yard interception with under a minute to go in the game.
Hays High ended up winning the Homecoming game, 29-6, and winning the Western Athletic Conference championship for the first time since 2014. The Indians defeated every team they have faced in the WAC, beating Great Bend, Liberal, Garden City and Dodge City.
The third-seeded Indians move to 5-0 right before a tough match up with eighth-seeded Maize South in the West half of 5A on Oct. 16.
                                                                                                                                                                      21csanders@usd489.com
Leave a Comment
About the Contributor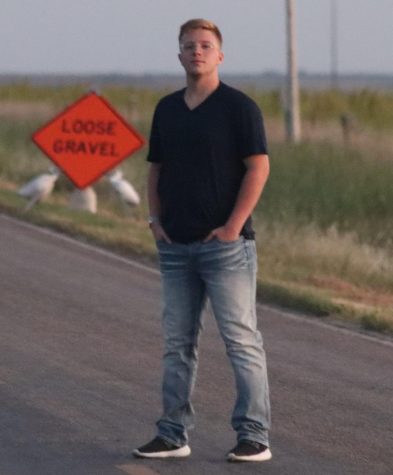 Cayden Sanders, Staff Reporter
Cayden is a senior this year, and this is his first year in newspaper. He is also involved in FFA. He loves to throw darts and take sports photography...