Musical cast list for 'RENT' released
The cast list for this year's musical, "RENT: School Edition," was released on Friday, March 19 after school.
The "rock opera," as the show has been described, is set in the East Village in New York City in the 1990s, following a year in the lives of a group of unlikely friends struggling with their careers and romances and finding satisfaction in their lives. The characters, coping with the compounded stress of the AIDS crisis and their own experiences with the disease, learn the true meanings of unity and living in the present, knowing that at any moment, it could all be gone.
_-_-_-_-_-_
The cast is as follows:
Mark – senior Gabe McGuire
Roger – senior Tom Drabkin
Mimi – senior Alisara Arial
Maureen – senior Caitlin Leiker
Joanne – junior Shirley Lee
Angel – senior Kai Kaufman
Collins – junior Carson Brooksher
Benny – senior Andrew Duke
Ensemble 1 (Alexi Darling, Roger's mom, homeless person) – freshman Brooke Leiker
Ensemble 2 (Paul, a cop) – freshman Calliope Green
Ensemble 3 (Gordon, The Man, Mr. Grey, Thug, homeless person) – junior Quinton McGuire
Ensemble 4 (Steve, Squeegieman, Waiter) – sophomore Seth Tripp
Ensemble 5 (Mrs. Jefferson, Blanket Person, Sue) – senior Ashley Vilaysing
Ensemble 6 (Mrs. Cohen, Alison, A girl, cop) – senior Alexis White
Ensemble 7 (Mr. Jefferson, Vendor, Pastor, Homeless person, thug) – sophomore Remy Stull
Ensemble 8 (Mrs. Marquez, Pam, cop) – sophomore Kiki Gonzales
_-_-_-_-_-_
Due to COVID-19, director Alex Underwood was forced to make cuts this year to keep a safer, more controlled environment. Underwood said that so many students did an amazing job in their auditions and encouraged students who were not cast this year to find other roles in production and promotion.
Student leadership opportunities:
Ushers
Two Spot Light Operators
Light Board Operator
Sound Board Operator
Poster Distributer
Stage Assistants
Props/Costumes organizer
Lobby Display
For more options, contact Underwood at aunderwood@usd489.com, or visit him in the choir room (Room 142).
21cleiker@usd489.com
About the Writer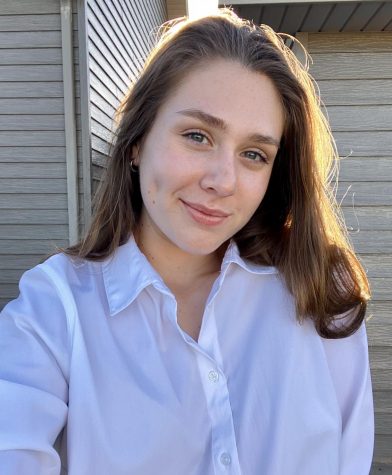 Caitlin Leiker, Assistant/Online Editor
Caitlin Leiker is a senior, and this is her third year in newspaper. She is involved in Chamber Singers, Musical, Spring Play, National Honor Society,...