Students prepare for Musical auditions
Hang on for a minute...we're trying to find some more stories you might like.
Auditions for this year's musical, "Bright Star", will take place on Sept. 10-13 at the school.
Singing and monologue auditions will be from 4-8 p.m. on Sept. 10 and 11 in the Lecture Hall, and dance auditions will be at 1 p.m. at 12th Street Auditorium on Sept. 12. Callbacks will be at 6:30 p.m. on Sept. 13 in the Lecture Hall.
"Students have four minutes to perform an excerpt from a song as well as a short monologue from the show," Musical Director Alex Underwood said.
If a student wants a principle role, Underwood suggests that they do their homework on the show and "basically nerd out." Along with thinking through character motivation, it's important to understand the historical context of the show and the North Carolinian music and dialect.
Some students are so excited for Musical that they started working on their audition material the first day they received it. Junior Nathan Leiker said he's "very prepared and pumped to nail an audition."
"I don't think bluegrass is going to be very difficult to perform seeing how we aren't city folk," Leiker said. "It's going to be interesting."
Sophomore Alisara Arial nearly has the entire musical memorized already.
"I think it's a lot of fun," Arial said. "At first I didn't love it, but after listening to it a few times, it's grown on me."
"Bright Star" is a bluegrass musical written and composed by Steve Martin and Edie Brickell, and is set in the Blue Ridge Mountains of North Carolina in 1945 with flashbacks to 1923. The musical is inspired by Martin and Brickell's Grammy-winning collaboration on the 2013 bluegrass album "Love Has Come for You".
The main story follows Alice Murphy at two different points in her life. She's shown as a 16-year-old girl in 1923 who's in love with the small town mayor's son, Jimmy Ray. The two end up having a baby together, but despite their pure love and intentions, the mayor takes the baby from them.
Instead of giving the child up for adoption, he boards a train with the baby in a suitcase that he hurls from the window into the river below. The musical takes many twists and turns with a surprising ending the audience will enjoy.
The characters deal with a variety of difficult situations, and Underwood thinks that the message of "Bright Star" is one of forgiveness and things eventually working themselves out.
"I think it's easy for audiences to connect with that," Underwood said. "We've all had things happen in our lives that are unfortunate or unpleasant, and we can quickly map that story onto the story of 'Bright Star'. I think you can walk away from the show refreshed and renewed and ready to tackle the world."

About the Writer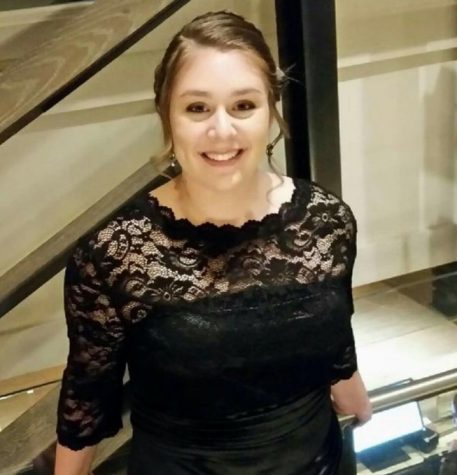 Caitlin Leiker, Staff Reporter
Caitlin Leiker is a sophomore, and this is her first year in newspaper. She is also involved in Chamber Singers, Musical, and Spring Play. Outside of school,...