Student led conferences allow opportunity for students to inform parents of future plans
Hang on for a minute...we're trying to find some more stories you might like.
Usually at this time of year, students start hearing that parent teacher conferences will be starting and they need to tell their parents to come and talk to their teachers. But this year, the school is doing something different, student led conferences.
Counselor Suellyn Stenger is on the committee that decided on this new set up.
"There's going to be two days, March 6 and March 7, where students will invite their parents and schedule a time to meet with their seminar teacher," Stenger said. "It will be a 15-minute conference with focus of it being the pre-enrollment that is being done in their course planner on career cruising."
The conference will also focus on linking their classes they are selecting to their match-maker results and to their top two career clusters on career cruising.
"Administration presented the idea to the department chair people," Stenger said. "And we decided to move forward on it."
Stenger said student led conferences have been done in many different schools.
"We are hoping attendance at parent-teacher conferences increases," Stenger said. "We are making this a positive interaction for the parents."
Students will communicate with their parents on what they are focused on class-wise and what their interests are, to spark a conversation and to make sure everyone is on the same page.
At the end, they will talk about grades and attendance and how those go hand-in-hand together. If there is time, they will also speak about goals that the students set for themselves – both short and long-term goals. They will also speak on the learning styles.
"Student are going to be scheduling this time in seminar," Stenger said. "They will be calling or emailing their parents to set up the time."
Stenger said there will be a sign-up sheet so the administration knows what's getting scheduled.
Stenger also said if a parent is unable to attend, then the student will lead a conference with another adult or a counselor or administrator that would need to take place during a seminar or GPS.
"Students will soon be learning more about it," Stenger said. "They will get seminar time to practice their script that they will have"
Stenger doesn't believe there are any downfalls with students leading the conferences. She said that with anything new, there are things that come.
She said the committee is moving forward with this and that they are feeling optimistic about it, and if they need to make changes for the next conferences they can do that.
"It is a great time for students to be able to share with their parents what they've been doing on career cruising," said Stenger. "The program is so large and there's so many opportunities for exploration."
Stenger is hopeful this will spark conversations at home for students to be looking at what goals they are setting for themselves and what lies at for them in their future.
"I believe in the importance of setting goals for yourselves because that's a lifelong skill and it's a way to know whether you've been successful or not without getting anyone else's feedback," Stenger said. "You set a goal for yourself and you set little goals along the way to reach the big goal and once you reach that you know you are successful."
19mfagan@usd489.com

About the Contributors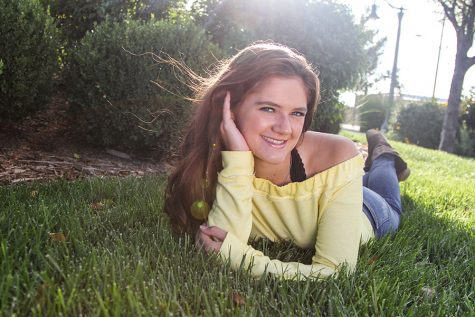 MacKenzie Fagan, Assistant Sports Editor
MacKenzie Fagan is a senior and this is her third year in Newspaper. MacKenzie enjoys spending my time with family and friends and playing softball.