Indians season ends at hands of Topeka West
The Hays High boys basketball team came into the first round of the 5A State Championship Tournament with a 22-0 record, but the Indians had to face a 19-2 Topeka West Chargers team that had a lot of strength and speed.
In the first quarter on the first offensive possession, the Indians had a serious blow when senior Dalyn Schwartz went down with an injury. The Indians kept pace with the Chargers for the rest of the quarter and had an 18-16 lead at the end of the quarter.
The Indians kept scoring in the second quarter, surging to a seven-point lead and forcing the Chargers to take a time out. In the final three seconds of the half, the referees made a controversial call against the Indians, giving the Chargers another chance to score. The Chargers took advantage of that and scored two more points before the buzzer. The Indians led by three at the end of the first half.
Before the tournament, the Kansas State High School Activities Association (KSHSAA) emphasized the rule that a player cannot celebrate on a dunk or shot made against an opposing player. However, West player Isaiah Wilkerson flexed on an Indian player, and another score saw Wilkerson yelling at another Indian, yet the referees did nothing.
The Indians trailed the Chargers 39-38 going into the final quarter. The Indians and Chargers battled back and forth. The Chargers got another foul call for them when the referees called a foul on Schwartz as a Changer fell backwards when Schwartz got the rebound. Then, the refs called a foul on junior Jace Linenberger when a Charger was double-teamed and Linenberger reached in. Wilkerson fouled out, and the Indians had an inbounds play that would be given to junior Carson Kieffer, who missed a three-pointer that would have tied the game with less than six seconds left.
The rebound was fought over between Schwarz and a Charger, which forced the ball to go out of bounds. The baseline referee gave the Chargers the ball. That same referee then called a foul against senior Jason Krannawitter that proved to be the final blow, giving the Chargers free throws to win the game instead of a five-second call that should have been called. The Chargers made two free-throws and ended the Indians' season.
The Indians finished their season with a 22-1 record, plus the Western Athletic Conference (WAC) and sub-state championships.
Leave a Comment
About the Contributor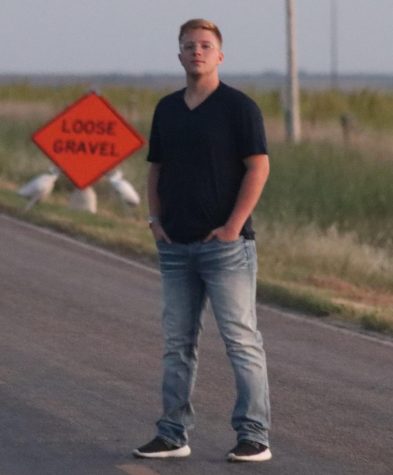 Cayden Sanders, Staff Reporter
Cayden is a senior this year, and this is his first year in newspaper. He is also involved in FFA. He loves to throw darts and take sports photography...