Indians fall to Cowboys in a tight matchup
The long-fought battle between the Indians and the Cowboys continued with a close matchup on Feb. 13, with the Indians falling to the Abilene Cowboys 66-62.
The Indians got off to a slow start on offense, but junior Braiden Meyers would get things rolling coming off the bench and knocking down a pointer when the Indians needed it.
"To be honest I didn't even know that I was the first to score until I got to the bench," Meyers said. "I just try to keep things rolling with the second group and do whatever I can to help the team."
The Indians would trail by seven at the end of the first allowing the Cowboys to put up 15 points. Senior Cole Murphy would go on a hot streak to in the second quarter going three for three from the three-point line bring the Indians back in the game. Senior Peyton Keiffer would hit back to back threes to end his streak from the past few games of going 0-12 from three, these back to back threes would give the Indians the lead by one.
"I felt better about ending my 0-12 streak, but we didn't come out with the win, so it doesn't really mean much," Keiffer said. "We got to play
harder on defense and they got the ball to the post well, so we got to change that."
The Cowboys would reclaim the lead, to go up 28-26 at the end of the half with a two-point lead.
Keiffer hit another three to start the scoring for the Indians in the second half, followed by two back to back threes from junior Trey McCrae to bring the Indians back into the lead early in the third quarter.
The Indians would hit a stall on offense not scoring for over half the third quarter stuck at 37 points, but the Cowboys didn't slow down going on a 12-0 run to end the third quarter. The Indians trailing by nine to start the fourth quarter couldn't find the momentum swing they were looking for, but the Cowboys wouldn't allow a comeback in the fourth quarter.
The Indians will face off at 7:30 on Feb. 16 at Hays High School, against the Garden City Buffaloes.
19jmaska@usd489.com
About the Contributor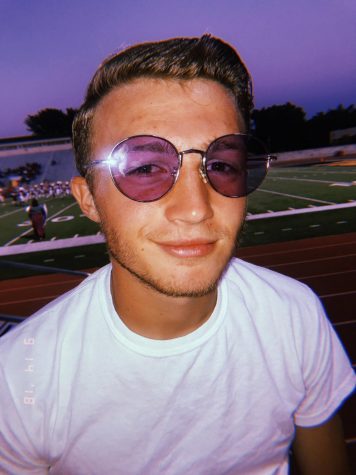 Jacob Maska, Photo Editor
Jacob Maska, a four year member of the Guidon staff and former Sports Editor and current Photo Editor. Maska has played soccer for all four years of his...