Students make appearance changes during time spent in quarantine
Quarantining due to the Covid-19 pandemic has led to many adjustments in people's everyday lives. This has given some students a newfound sense of boredom as they spend their days at home.
This boredom, paired with the fact that students are not going to be seeing many people during this time, has led to some appearance changes.
The most common among these changes seems to be girls dyeing their hair and cutting their bangs. Junior Sophie Gross dyed her hair purple, and senior Addy Speier dyed her hair pink and cut her bangs.
"I wanted to dye my hair because I dyed my hair last summer, and I missed having fun hair," Gross said. "I am also the most bored I have ever been, so I thought, 'Why not?'"
Gross said she was not really scared at the thought of it not going as planned because it was mainly something she wanted to do for herself.
"I wasn't nervous because I'm stuck in my house anyway, so if it turns out bad, no biggie," Gross said.
Speier has dyed her hair a few times in the past, so that was nothing new for her, but this was the first time she has ever cut her bangs.
"I've dyed it myself a couple times before, but I guess the bangs were something I should've been scared to do," Speier said. "The only reason I wasn't scared was because it's quarantine, and if they looked bad, nobody was going to see me."
Both girls said they are happy with the results of their hair and do not regret their decisions.
"I am very happy with the way my hair looks," Speier said. "In hindsight, the bangs were probably a mistake, but my hair grows very fast, so they'll be gone in no time at all. All in all, it was a fun experience."
Gross also said she is pleased with the way the color has faded out of her hair so far and is considering dyeing it again in the near future.
"It wasn't as purple as I thought, but I loved the results," Gross said. "It's faded out really well and didn't turn a gross color. I also have an unopened tube of hair dye, so I'm thinking about doing it again."
21abrooks@usd489.com
About the Writer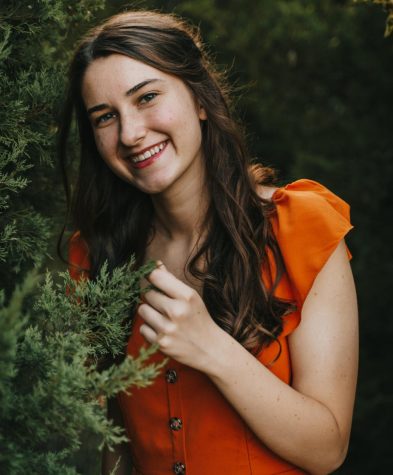 Allison Brooks, Multimedia/Photo Editor
Allison Brooks is a senior, and this her fourth year in newspaper. Outside of newspaper, she is involved in DECA, Scholars Bowl, National Honors Society...