The Guidon online announced as 2019 Online Pacemaker finalist
The National Scholastic Press Association has honored 44 news sites for journalism excellence with the 2019 Pacemaker finalists.
The state with the most sites named as finalists is California with 14 schools, and in Kansas, only two were given this award: The Guidon and The Harbinger of Shawnee Mission East High School.
"It's considered the Pulitzer Prize of high school journalism," instructor Bill Gasper said. "Now what they're going to do is go through and look at them again. That's when they pick the actual winners."
To determine finalists, judges studied approximately 200 websites from 34 states, separating online sites into two categories based on school population. Now, judges will now look online at each of the finalist's websites to make sure they are frequently posting before the spring conference in Anaheim, Calif. on April 25 and 27.
"It's a heck of an accomplishment," Gasper said. "To become a Pacemaker finalist is just one of the top awards you can get. It's just a tremendous honor. We've won two Pacemaker finalists and one Pacemaker with the print newspaper many years ago, so it's been quite a while since we've gotten it."
The recognition is courtesy of all of the staff members from the fall 2018 school semester including Editor-in-Chief, senior Isabelle Braun, Online Editor-in-Chief, junior Madison Weber, Associate Editor, junior Allison Hillebrand, Photo Editor, senior Jacob Maska and Sports Editor, senior MacKenzie Fagan; sophomores Kalyssa Boyle, Addie Braun, Allison Brooks, Anna Brull, Alicia Feyerherm, Caitlin Leiker, McKena McBride and Alexis Pfannenstiel; juniors Dellilah Herrera and Yesenia Maldonado, and seniors Cody Conger, Brittani Park, Scout Perryman, Taylor Schiffelbein and Rebekah Porter.
"I'm just so extremely happy that in my last year, and it's something we've worked so hard with on the online, trying to develop it over the years to get to this point," Gasper said. "I'm so proud of all my students for all of their hard work. They should be very proud."
19ibraun@usd489.com
Leave a Comment
About the Contributor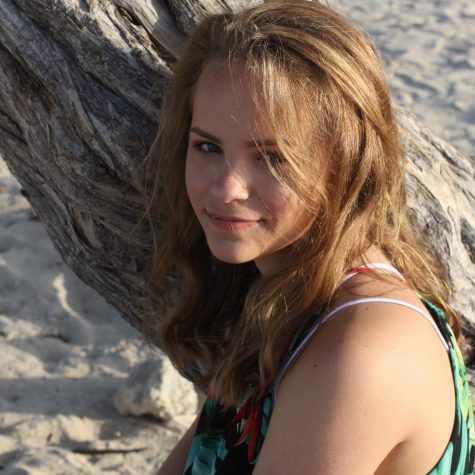 Isabelle Braun, Editor-in-Chief
Isabelle Braun is a senior who loves talking to new people and spending time with friends. She is very driven and plans to make her senior year the best...