Indian swimmers take fifth in Great Bend
Hang on for a minute...we're trying to find some more stories you might like.
Indian swimmers place fifth in their rival's hometown of Great Bend on Dec. 4. The meet saw swimmers from Great Bend, Dodge City, Garden City, Hutchinson, Liberal and Hays.
The Indians finished, with 132 points, placed far above the 72 point Liberal Redskins. Hutch scored above Hays with 199 points.
"I think we did pretty good," sophomore Tate Kaiser said. "We beat Liberal so that's cool. However, I could have done a lot better."
The team was not at full numbers for this meet. Four swimmers were gone due to illness or other circumstances.
Despite the team's performance as a whole, time improvements and personal record's were smashed and reestablished.
The A team's 200 yard medley and 200 yard freestyle relays both came just a second short of a state consideration time.
In his first breaststroke race of his high school career, junior Isaac Smith qualified for state in the 100 yard breaststroke. He came two seconds short of breaking the school record.
The team will swim in Wichita next on Dec. 8.
200 Medley Relay – Marshall Perryman, Isaac Smith, Scout Perryman, Brett Bowles (1:59.95) 3rd
200 Freestyle – Scout Perryman (2:31.77) 10th
200 Individual Medley – N/A
50 Freestyle – Andrew Prine (34.16) 15th, Treyton Schumacher (34.83) 17th, Chris Goodale (36.37) 18th, Tate Kaiser (37.12) 19th
100 Butterfly – Isaac Smith (59.20) 1st, Scout Perryman (1:14.80) 9th, Dustin Rajewski (1:53.06) 13th
100 Freestyle – Brett Bowles (1:00.66) 7th, Adam King (1:12.31) 16th, Alvaro Esnaola  (1:13.93) 17th, Jacob Miller (DQ)
500 Freestyle – Dillon Gray (8:29.78) 8th
200 Freestyle Relay – Scout Perryman, Marshall Perryman, Brett Bowles, Isaac Smith (1:45.71) 2nd, Tate Kaiser, Chris Goodale, Treyton Schumacher, Jacob Miller (2:22.84) 12th
100 Backstroke – Marshall Perryman (1:15.74) 4th, Matt Goodale (1:21.07) 9th
100 Breaststroke – Isaac Smith (1:08.77) 1st, Andrew Prine (DQ), Chris Goodale (DQ)
400 Freestyle Relay –Dustin Rajewski, Andrew Prine, Adam King, Dillon Gray (5:30.92) 10th
19sperryman@usd489.com

About the Contributors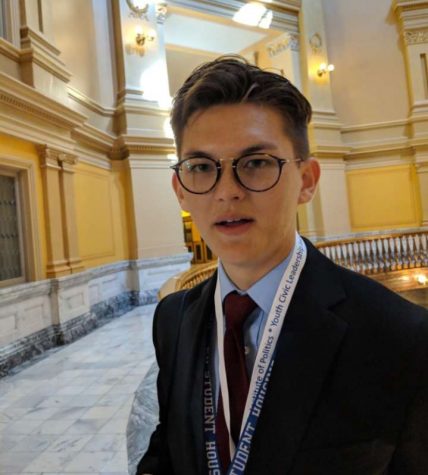 Scout Perryman, Staff Reporter/Cartoonist
Scout Perryman is a big, bad, senior. He is only doing newspaper because he would get yelled at by Isabelle if he did not. Scout's eyebrows are always...