Foreign Language Honor Society introduces new members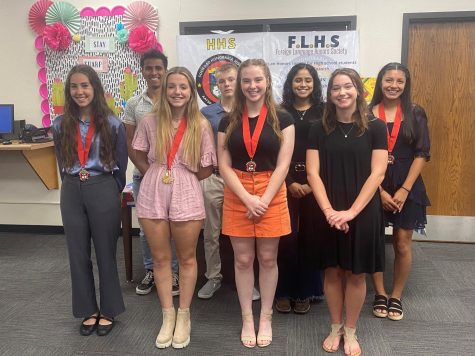 On Monday, Sept. 19, Hays High School's Foreign Language Honor Society (FLHS) had an induction ceremony for its new club members.
FLHS welcomed two new juniors, Leo Hernandez and Arely Maldonado, and four new seniors, Evan Dealy, Cole Schlautman, Andrea Tinoco-Ramirez and Avery Winter.
There are also three seniors who were in the organization last year, including Rylie Fairbank, Mackenzie Hagerman and Riley Kershner.
"I joined because it is a great way to get involved in the foreign language program and the culture at Hays High," Kershner said. "Being in FLHS has connected me with so many students that I wouldn't normally talk to. It has also showed me how large our population of students that speak foreign languages is."
Leading the organization are Kershner as president, Fairbank as vice president, Maldonado as secretary/treasurer and Hagerman as activities committee chair.
At the ceremony, the officers gave speeches regarding the importance of language and how it has affected them and other people. They also read a poem about acceptance, inspiration and unity.
FLHS is planning an upcoming event, which is their International Day event, in which they celebrate all different cultures with informational tables for different cultures, along with food and music from those cultures.
"My favorite part of FLHS is the activities that we have every month because they showed me, who is not the most educated on Hispanic culture, what they celebrate," Kershner said.
                                                                                                                                                                      24jwente@usd489.com
Leave a Comment