Guidon Online earns top state award
Newspaper students were recognized for their collective effort when it was recently announced that the Guidon Online has been awarded All-Kansas from the Kansas Scholastic Press Association.
All-Kansas is the top state award presented to student yearbooks, newspapers and websites.
Gasper said this was the first time the online publication has received an All-Kansas award.
"It has been one of our goals for a long time to receive an award for our website," Gasper said. "The work that the newspaper staff put into the website has really paid off."
Websites are judged in five areas – coverage and content, writing and editing, breaking news, interactivity and multimedia, and design and navigation. In each area, websites are awarded either an All-Kansas, an Award of Commendation, or an Award of Merit.
"I really enjoyed the websites's layout and found it very easy to navigate," the judge said. "I was pleased that it was clear where viewers needed to go if they wanted specifically to find the multimedia components or the web-only elements of the publication. This is how a publication stays connected to its audience. Well done here."
Anniston Weber and Madison Crees served as Co-Editors-in-Cheif, Kara Brooks served as Editor, Peyton Augustine served as Sports Editor, Lacey Gregory served as Associate Editor and Jordyn Dake served as Online Editor. Other staff members were Madison Weber, Isabelle Braun, Kayli Potter, MacKenzie Fagen, Kristen Nease, Taylor Schiffelbein, Tiana Lawson, Jacob Maska, Hannah Norris and Amiyah Gonzalez.
"All-Kansas is our ultimate goal for our publications, so it goes without saying that I'm extremely proud of the newspaper staff," adviser Bill Gasper said. "The award is a result of many hours of hard work by the staff and a belief of what they are doing is very important. And, not only is their work important, they are also learning valuable future workplace skills such as effective communication, teamwork, problem solving and creative thinking."
About the Contributor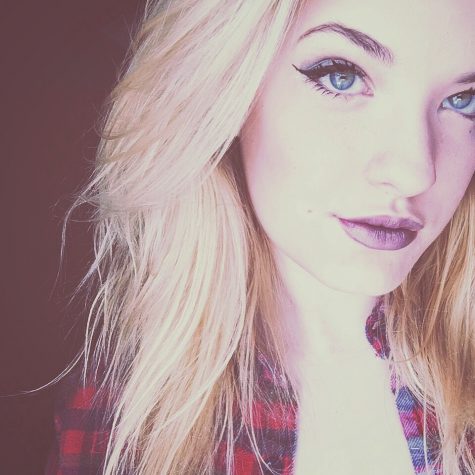 Anniston Weber, Co-Editor in Chief
Anniston Weber is Co-Editor-in-Chief of the Guidon and a senior this year. She has been involved with the Guidon for three years. In addition to being...