Pandemic forces students to adjust study spaces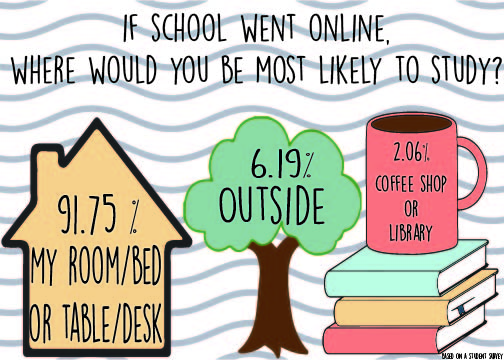 In the midst of COVID-19, students have had to alter their school lives in order to stay productive during the school day. One of these alterations includes creating new study spaces for themselves.
All students have had to make changes, but those who have especially been affected by COVID-19 are students who have chosen to do Parent Choice Remote learning (PCR).
One student who has remained a PCR student for the 2020-2021 school year so far is sophomore Elizabeth Rogowski. Rogowski said she decided to do PCR because at the time, COVID-19 cases in Hays were still spiking and she had done well finishing her previous semester online.
During her time working from home, Rogowski has created new areas to study to reach her full potential in her studies.
"I have been working and doing school from my mom's preschool director office recently, and I have also worked from a desk at my house," Rogowski said.
Rogowski has found that being a PCR student has not been as difficult as it may be assumed.
"As a PCR student, it is easier for me to get work done, because there aren't as many distractions," Rogowski said. "I have also started using a daily agenda, which has been very helpful."
On the other hand, some students seem to struggle with the change in schooling. Sophomore Celia Brooks feels being a PCR student to be more challenging than an in-school student.
"It is probably more difficult for me to get work done because I am a bad self-motivator," Brooks said. "It is difficult for me to motivate myself to get my work done."
According to guidance counselor Amy Miller, this feeling is not uncommon within the PCR students attending Hays High.
"The vast majority of PCR students have returned to HHS as they weren't being successful working from home," Miller said.
Miller explained how a student's environment in which they study is very important.
"I've asked students where they study and many of them say they lay in their bed," Miller said. "Your bed should be reserved for a place to relax and sleep. It's best to sit at a desk or table."
Sophomore Keiarra Gonzales, who has been in-school learning this year, said she mostly studies in her bedroom.
"With COVID, I've definitely noticed myself studying in a different way," Gonzales said. "More recently, I've been making Quizlets over every subject and studying lessons to get ready for quizzes and tests."
Gonzales said she chose to not do PCR this year because she wanted to be in school with her friends.
Overall, students have changed the ways they have studied and the places in which they do so, for both PCR students and in-school students.
"There is definitely an atmosphere of appreciation for being able to come to school every day," Miller said.