Students find creative ways to stay connected during COVID-19 outbreak
The COVID-19 pandemic has drastically changed the daily routines of students. Schools are closed and those with non-essential part-time jobs have been let go.
The stay-at-home order has also restricted students from hanging out with their friends.
To combat this, many students have been finding creative ways to keep in touch with their friends during this time of social distancing.
One application students are taking advantage of is Zoom. Zoom allows multiple people to talk to each other in real time. Teachers have been using this application for their classes, but anyone can set up a Zoom call.
"I'm really bad at answering my Snapchats, so having a scheduled time to meet and talk with my friends has made things easier," sophomore Grace Wente said.
Wente and a group of her friends have a Zoom call every day during the school's scheduled lunch hour.
"This [staying at home] hasn't been too hard of an adjustment," sophomore Ryan Schuckman said. "It's inconvenient to not talk with people in person, but there are other ways to communicate."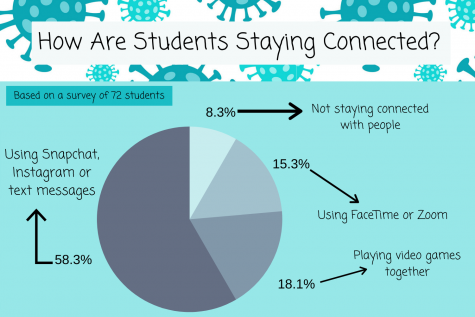 Quarantine has been a significantly harder adjustment for others like Wente who went from hanging out with her friends most days to suddenly not being able to see them anymore.
"It's weird because I usually do a lot with my friends quite often and now not being able to see them blows," Wente said. "But we found ways to talk and not be completely isolated from each other. I'm very excited for when quarantine is over, and I get to see them in person again."
Other than daily Zoom calls with her friends, Wente has been communicating with them through social media the same way she did before quarantine.
"I FaceTime some of them every once in a while, or we'll send memes and videos or just posts that remind us of each other back and forth on social media, the typical teenage things," Wente said.
"
It's been a little hard, but I know I'm keeping people like my friend Alicia with compromised immune systems safe so that thought is what gets me through being sad"
— Senior Olivia Reed
Another method of communication some students have been using is through video games. A popular new game is Animal Crossing: New Horizons which can be played on the Nintendo Switch.
In this game users can explore, create and customize their own island and get to interact with other people who play the game.
"I send my friends outfits for their characters and other presents through the game's mail, and we visit each other's islands while talking through discord," senior Olivia Reed said.
Reed has been playing the game everyday and has 10 friends on the game and has visited seven of those friend's islands.
Even though it has been a hard adjustment not being able to see her friends Reed understands the importance of quarantining during this time.
"It's been a little hard, but I know I'm keeping people like my friend Alicia with compromised immune systems safe so that thought is what gets me through being sad," Reed said.
21abrooks@usd489.com
Leave a Comment
About the Contributors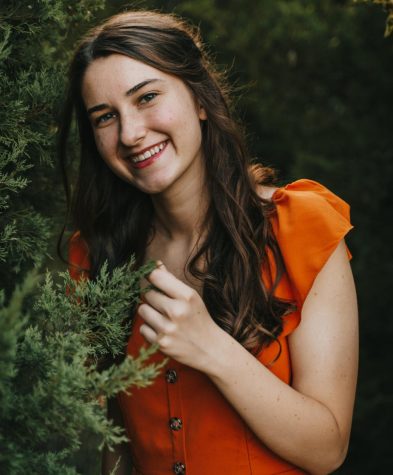 Allison Brooks, Multimedia/Photo Editor
Allison Brooks is a senior, and this her fourth year in newspaper. Outside of newspaper, she is involved in DECA, Scholars Bowl, National Honors Society...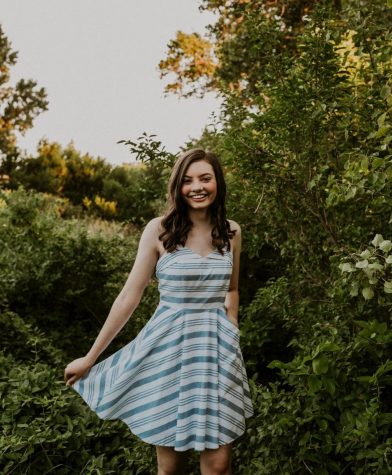 Alicia Feyerherm, Editor-in-Chief
Alicia Feyerherm is a senior, and this is her fourth year in Newspaper. She is very honored and excited to be in the role of Editor-in-Chief this year....