Students discuss thoughts on major retailers closing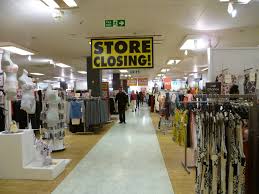 Hang on for a minute...we're trying to find some more stories you might like.
Recent headlining news has stated that major retailers will be closing soon due to bankruptcy. Some of these stores include K-Mart, JCPenney, Macy's, GameStop, RadioShack, Staples, and CVS.  There will also be a large amount of mall stores closing too including Abercrombie and Fitch, Bebe, Guess, Crocs, The Limited, Wet Seal, American Apparel and Payless. The announcement of these stores closing has some students upset and others without a care.
"I don't care a whole lot because the stores that are closing are stores that I never shop at," said freshman Ashlyn Luedders.
On the flipside these stores closing do matter.
"I think closing Rue 21 stores is really stupid because a lot of people shop there and they make a lot of money," said sophomore Yordan Cabrerra. "I don't understand how such a popular store can go bankrupt and it has a lot of people infuriated."
The stores' going bankrupt is due to a lot of different factors, one being people do most of their shopping online now rather than going to the store.
"I don't really care that a lot of stores are closing because I do almost all my shopping online," said freshman Maddie Lohmeyer.
Another reason some stores are closing is due to their pricing of items that can be found somewhere else for a lower price.
"If the prices weren't so high they wouldn't be going bankrupt," said freshman Mackinzie Klaus. "Overall I think Amazon is going to take over a lot of companies because a lot of people have started shopping on there and Ebay."