Sophomore takes action to protect students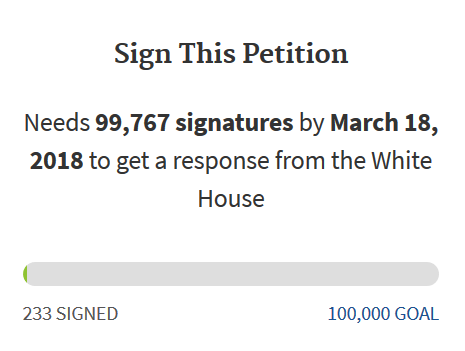 Hang on for a minute...we're trying to find some more stories you might like.
Sophomore Kaiden VanSchuyver created a petition to start having retired veterans and police officers on guard at the school to keep students safe from potential threats.
VanSchuyver emailed out a link to the petition to the whole student body on Feb. 22, since then it has gotten around 230 signatures out of a goal of 100,000 signatures within the first 30 days.
The website that the petition is on states that if the petition gets 100,000 signatures in the first 30 days it will get a response from the White House.
VanSchuyver thinks retired veterans and police officers would be the best fit for the job because they already have the proper training and know how to protect people.
The reason VanSchuyver was inspired to make this petition is that he feels that instead of just debating issues and pushing political agendas, he wanted to get something done.
"I made the petition because of what happened in Florida recently," VanSchuyver said. "It was horrible what had happened. All the time, politicians use some of these tragedies to push their agenda. Repeatedly, nothing gets solved. So instead of waiting, I decided to act upon this issue myself."