Student Council officers experience Regional Student Council Conference
Hang on for a minute...we're trying to find some more stories you might like.
Student Council executive officers and class representatives got up early for the Regional Student Council Conference in Ellis on Sept. 26.
The Regional Student Council Conference is held every year across Kansas. Schools within the region all come to a host school, where they exchange ideas and thoughts about student council with each other.
Ellis High School was the host for this year's conference. Ellis's student council officers were staffing the event and they oversaw giving out refreshments, running the games and the stage lighting and sound for the speakers.
"For the schools that were there, it was pretty organized and entertaining," president Trinity Callis said.
The event started off with donuts and drinks provided by Ellis student council and an "Ice Breaker Bingo" game. The game was a bingo card with a list of traits and experiences a person might have had. The goal was to mingle with as many people as possible and try and find people that fit the description so that they could sign off on your bingo card.
Junior class president Kallie Leiker said it got the group up and moving and socializing with other schools before they began. It helped make the environment friendlier.
After "Ice Breaker Bingo," the schools filed into the auditorium to hear KSHAA Student Council director David Cherry speak about the leadership crisis affecting the world.
"We are in need of leadership and it starts with young men and young women like the ones in here this morning," Cherry said.
Cherry then introduced the key note speaker Adrienne Bulinski.
Bulinski was Miss Kansas in 2005. She told the group about setting and achieving your goals, and how failure is just as important as success.
Bulinski also described her perseverance through her accident with a horse that resulted in a total ankle transplant, as well as the subsequent events that led her to being a public speaker to teens.
"I thought she was a really fun and great speaker," senior co vice president Taya Randle said, "she was also extremely real."
After the conference, the Hays officer's contingent went to the Golden Q to talk about what they thought and what they learned and to have lunch.
Going into the conference co senior vice president Faith Ewert didn't know what to expect.
"I just pictured a bunch of groups coming together, splitting into groups and doing activities," Ewert said, "I was pleasantly surprised because I actually enjoyed it."
Ewert learned the importance of writing down and keeping track of your goals so she can pursue them efficiently and how she can transfer that to being a leader at school and in her community.
After lunch, the group traveled back to Hays High to catch the beginning of fourth hour.
"It was a great experience and I feel better prepared to do my job as a student council representative because of it" Leiker said.

About the Contributors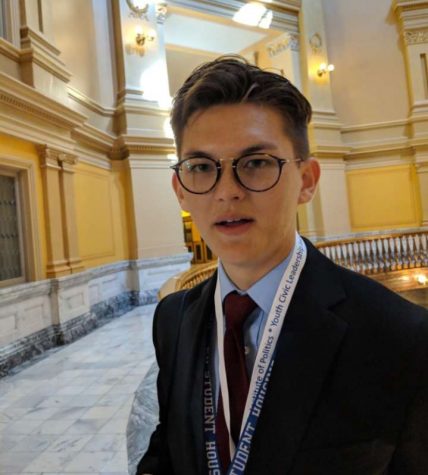 Scout Perryman, Staff Reporter/Cartoonist
Scout Perryman is a big, bad, senior. He is only doing newspaper because he would get yelled at by Isabelle if he did not. Scout's eyebrows are always...