Gender Sexuality Alliance holds bracelet-making day on March 10
In order to encourage more students to attend the Gender Sexuality Alliance (GSA) meetings, the current members decided to host a day for interested students to visit Room 112A on Tuesday, March 10 after school to make friendship bracelets.
A common misconception is that GSA is only for members of the LGBT+ community. In reality, it is an opportunity for students of all genders and sexual orientations to discuss how to improve the school through the education and acceptance of differences.
"I have had folks ask if they are allowed to come to meetings if they are straight or cisgender [meaning their sex at birth aligns with their gender]," sponsor Erin Deenihan said. "The answer is, of course, yes. The purpose of GSA is to build a safe and supportive community, not only within our group, but at Hays High."
Senior Hanna Dannar said that straight and cisgender students play a large role in improving the school's social climate.
"They make up a majority of the student population, so if they are made aware of the problems and conflicts within the school, they can go so far in changing and stopping that behavior," Dannar said. "Our goal is to create a supported environment for all students — one where everyone feels safe and secure expressing who they are."
Junior Gabe McGuire said that more people should attend the GSA meetings because it will open their minds like it opened his.
"I've grown a lot since middle school from the surprisingly large amount of homophobia that naturally exists there," McGuire said. "I've had my questions about it, too. I've had the same thought that every other straight, Christian person has had. The simple fact is that you have to learn to be open to these sorts of things, or you won't be able to move with the quickly changing world of today. The LGBTQ+ community doesn't only have to be confined to gay people. All of you straight people out there can support a vastly growing community of people who are simply wonderful."
21cleiker@usd489.com
About the Contributor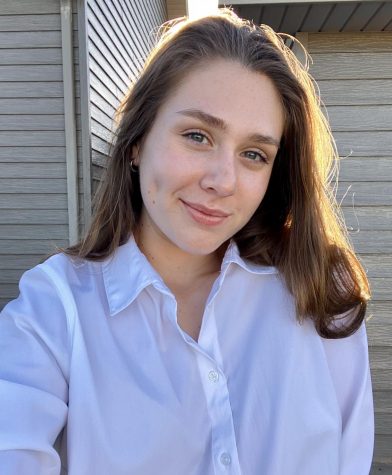 Caitlin Leiker, Assistant/Online Editor
Caitlin Leiker is a senior, and this is her third year in newspaper. She is involved in Chamber Singers, Musical, Spring Play, National Honor Society,...