Music Department prepares for second annual Fall Benefit Concert
Hang on for a minute...we're trying to find some more stories you might like.
Natural disasters have always been a part of our world, and they are significant events that inspire artistry for various reasons.  
The theme for this year's Fall Benefit Concert is "Storms," and the Chamber Singers are developing a program for the chosen disaster relief organization All Hands and Hearts for the event on Oct. 8 at Beach/Schmidt Performing Arts Center. 
According to vocal director Alex Underwood, each of the choirs have a set of songs that go on their own "mini-journeys." Some of the songs focus on the time before the storm, the storm itself and the recovery afterwards.
"I think that storms are a great metaphor for our lives in many ways, so there's lots of overlap that adds an interesting element to the program," Underwood said. "Sometimes I choose music that's more representative. Some parts of the concert will be about the metaphorical storms in our lives, while other songs were written in memorial to the devastation of natural disasters." 
The Chamber Singers have been divided up into the following categories to tackle this year:
Publicity: seniors Katelyn Engel and Marshall Perryman; juniors Zach Chance and Eythun Wyatt; sophomore Alex Johnson 
Presentation: seniors Da'Vontai Robinson and Nathan Leiker; junior Caitlin Leiker; sophomore Aidan DeBey 
Video: juniors Samuel Rider, Eliana Buller, Gabe McGuire, and Kai Kaufman 
Money Collection: seniors Hanna Dannar and Sierra Adkins 
Voting: juniors Alexis White and Tom Drabkin 
Lobby Display: senior Kari Satomi; junior Ashley Vilaysing; sophomores Samantha Vesper and Sydney Wittkorn 
Emcees: juniors Alisara Arial and Andrew Duke; sophomore Carson Brooksher 
Underwood said the success of the concert will be determined by whether the students and the community feel driven to contribute to the organization. One of the resounding comments from last year's benefit concert was that there was not enough publicity beforehand. 
Underwood also said that his goal is to double the $1,000 received last year. 
"I'd really like to see our students truly getting the word out," Underwood said. "Not just 'who, what, when, where,' but also the 'why.' We need a focused and intentional effort to improve upon that this year." 
Senior Hanna Dannar said that people should come to the benefit concert because it gives them the chance to give back in a way that is doable. 
"You can give as little or as much as you want, and nobody knows what you give," Dannar said. "It's also a great opportunity to see some live music with some interesting songs." 
Junior Tom Drabkin said attending the concert would not only give others the chance to experience the hard work of the music students. Simply being there would show gratitude for a community's ability to band together in a time of struggle. 
"It's a really good cause, especially with the hurricane that hit the East Coast," Drabkin said. "It's so good to send some money over there, even though we're in the middle of the country. If a tornado were to hit Hays, other people would do the same for us." 
21cleiker@usd489.com
About the Contributor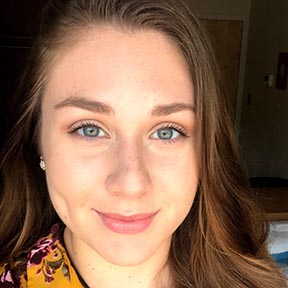 Caitlin Leiker, Copy Editor
Caitlin Leiker is a junior, and this is her second year in newspaper. She is involved in Chamber Singers, Musical, Spring Play, Swimming, Leadership Team,...