23 DECA members travel to Ronald McDonald House Charities in Wichita, work to complete chores
Hang on for a minute...we're trying to find some more stories you might like.
Faces drooped with exhaustion as DECA members carried boxes filled with pull tabs, stuffed snowmen and wish list item donations out to the bus on Jan. 16 at 6 a.m.
Those working to arrange the boxes under the bus and in seats struggled to relieve themselves from the frigid air by wrapping their jacket sleeves around their fingers.
Only after 30 minutes of packing and unpacking the bus did the 23 DECA members and three sponsors finally depart for Wichita for what was sure to be a day filled with cleaning.
"We went to Wichita to the Ronald McDonald House Charities," senior Kallie Leiker said. "We separated into the "Midtown" house and the "Sleepy Hollow" house, as well as the family room located in Wesley Medical Center. The reason we traveled there so our DECA member could help clean each of the homes."
This is Leiker's third year traveling to the Ronald McDonald Houses in Wichita, along with senior Isabelle Braun, the co-chairs of the Community Service Project in DECA. Six DECA members had traveled to the houses their junior year, and 12 DECA members experienced their first trip to the Houses where they were given the opportunity to learn more about the cause they worked on for their peers.
"Getting to see where the families we've been helping live, and even seeing some of the kids who were staying there, I think it just helped validate why helping with the charities is so important," senior Jacie Robinson said. "I cleaned in the Family Room, so we wiped down all the surfaces in the room, cleaned the toys, swept. We just kind of wiped the room down from top to bottom."
Robinson worked with senior Abigail Dickinson in the Family Room at Wesley Medical Center, completing any chores the managers had lined out for them. At "Sleepy Hollow," House juniors Peyton Neirnberger, Carson Ackerman, Madelyn Waddell, Taylor Weidenhaft, Cassidy Prough, Lauren Kent, Emma Pfannenstiel, Matt Goodale, Joanna Carillo and Landon Dinkel, and at "Midtown" House, Braun and Leiker worked with seniors Keaton Markley, Peyton Thorell, Connor Teget, Ryan Hernandez, Shyann Schumacher and Trevor Mai to complete similar chores, with the addition of dumping pull tabs into a recycling bin.
"Pull tabs don't seem like they're that important, but every one counts," Leiker said. "When we took them down we dumped them in a big metal bin, and every time a metal bin is filled up it's around $500. We filled up a bin and had extras after that.
"At first (the managers) were really surprised that we had that many boxes, and they've never seen so many pull tabs brought in at one time, so they were really impressed with what we brought in."
Sophomores Allison Brooks, Emmy Morley and Kassidy Winter also traveled to "Midtown" House, and while they are not currently enrolled in the Principles of Marketing course, they plan to be next to take over the Community Service Project for Leiker and Braun.
"I thought it was cool seeing what all goes on there," Winter said. "I feel like it'll be fun (next year), and I'm excited to learn more about what all goes on during DECA."
19ibraun@usd489.com

About the Writer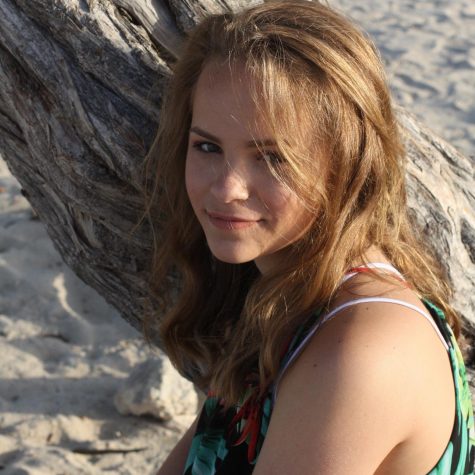 Isabelle Braun, Editor-in-Chief
Isabelle Braun is a senior who loves talking to new people and spending time with friends. She is very driven and plans to make her senior year the best...