Students, teachers walk for suicide prevention
Students and teachers participated in the Out of Darkness Walk for suicide prevention on Saturday, Sep. 15 at 2 p.m.
Just over 70 people attended the walk held at the Municipal Park including 6 different teams from the area.
Sophmore Alisara Arial was happy to see some familiar teachers participating, including Hays High math teacher Erin Deenihan and Hays Middle School band teacher Renetta Dawson.
"It was great to see Ms. Dawson at the walk," Arial said. "It really means a lot to all of us band kids that she came."
Sophomore Alexis White started the group "Calista's Crew" to participate in the Suicide Prevention Walk after finding out about the event. She created the team on May 29.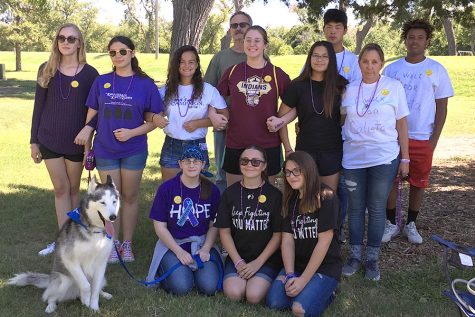 Calista's Crew had 10 members total, six involving Hays High School students Alisara Arial, Caitlin Leiker, McKena McBride, Cami Moore, Alexis White and Ashley Vilaysing. Other members were friends and family.
White's group's goal was to raise $250, but ended up earning $525. White individually earned $425 for Calista's Crew.
According to event organizer Ashton Gebhard, walk participants raised a total of $5,265. Individuals and teams can continue fundraising through Dec. 31.
Groups that had tables at the event giving out information were The Veterans Administration, Valley Hope, FHSU Kelley Center, and High Plains Mental Health. Forever Flames was available for participants to create a candle in memory of a loved one. Healing after Loss of Suicide (HALOS) – Hays was also present.
"I did the Walk out Of Darkness walk because I wanted to be part of an movement that makes people aware of suicide," White said. "We hear about the increasing suicide rates all the time but don't take them seriously until they hit us close to home. My main reason for doing this walk was in Calista's memory, to show that she will always matter and will never be forgotten."
21mmcbride@usd489.com
About the Contributor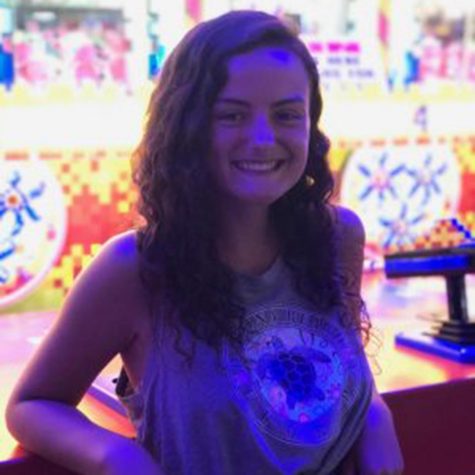 McKena McBride, Staff Reporter
McKena McBride is a junior, and this is her second year in Newspaper. She is involved in tennis, track, StuCo, Red Cross Club, Future Medical Professionals...