HHITA members build electric cars for fun, competition
To find the future engineers of America, one would have to look no further than the Hays High Industrial Technology Association, or HHITA.
Students, under the guidance of teacher Chris Dinkel, meet every Tuesday night from 7-9 p.m. to construct projects that require much skill and dedication.
"We build electrical, three-wheeled cars that we sit in and drive," HHITA member, junior Payton Ruder said. "We take these cars to a series of races against other schools in the state of Kansas."
Kara Brooks
An electrical car is small enough for one person, the driver, and is powered by two car batteries.
Students who join HHITA are usually those with an interest or background in engineering.
"I enjoy putting things together and tearing them apart and seeing how they work," senior Colton Scoby said. "I want to go into mechanical engineering, so working on these electrical cars lets me see how the motors and everything go together."
While Scoby focuses on the motors and Ruder works on the structure, junior Scott does the repairs.
"I just help with any repairs that are necessary," Ring said. "I do anything that needs to be done."
Each member of the team has a special skill or focus to contribute to the electric cars.
"It's a lot of brain power that comes together to get everything the way they should be," Ruder said.
Each class manages one car, so they typically have four cars at a time.
"Usually juniors and seniors in the class research and design start building the new car for that year," Ruder said. "Three or four of students usually work on one at one time."
HHITA usually has a rotation going, where the seniors and juniors build a new car and the cars get passed down as they get older.
"When we have five cars, we take the oldest one and it gets recycled," Ruder said. "We trash that car and use some of the parts to build a new car."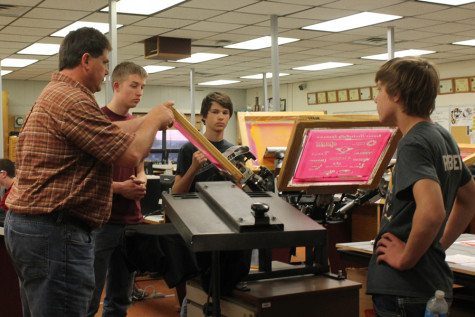 The electric cars belong to the team collectively rather than to an individual person.
"We associate the car we have worked on the most as 'our car'," Ruder said. "But all in all, all the cars belong to all of us."
HHITA is a self-funded program, so the supplies they buy are from sponsorships from different companies in the area.
"Each car costs about $2,000 to $3,500 apiece and just the two batteries cost $600," Ruder said. "We do a big breakfast every year that basically covers a car, and the sponsorships cover anything else we need like tires, rims and brakes."
The batteries, depending on the type, last around three to five years. In order to make the batteries last longer, students have to take good care of them as part of their weekly maintenance routine.
All their hard work and anticipation leads up to the races.
HHITA has two races in the fall and three in the spring. The ones in the fall are the Blacktop Nationals and the ones in the spring are the Kansas Electro Rally Championship Series.
"It's mainly based on experience, attendance and how hard you worked to decide who gets to drive these cars at races," Ruder said. "You really have to know your car well to race it well."
Although the electric cars work well on almost any surface, members of HHITA still worry about the possibility of a wreck on one of their cars.
"If I happen to not drive my car at that race and somebody else is driving it, it's always like 'you better not wreck my car, or I will hurt you'," Ruder said. "I know other people have to get experience, but I just get protective of the car I worked so hard on."
Usually there are only one or two wrecks at every race, and students just have to hope it's not theirs.
"The cars are really safe though," Ruder said. "When you wreck, nine times out of 10 nothing is going to happen to you."
Students involved in HHITA enjoy the program for many reasons, but the most important reason remains the same for everyone.
"We want to win," Ruder said. "When you get to the race and you see all those other schools with their cars, naturally, you just want to have the best car out there."
16fzhang@usd489.com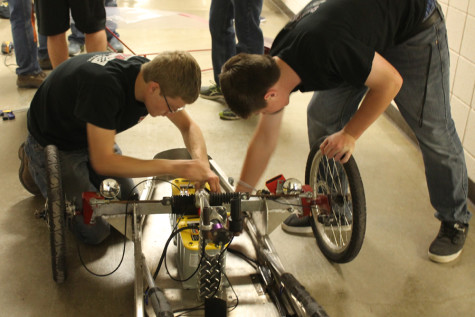 Leave a Comment
About the Contributor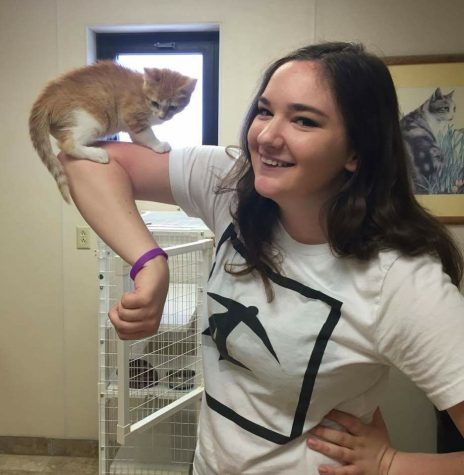 Kara Brooks, Editor
This is editor Kara Brooks. She is a senior this year and enjoys cats, books and The Office.