Swim team takes 12th at Topeka West Invitational
The Indian Boys swim team competed in Topeka on Jan. 8. With 12 teams, this was the biggest meet the boys have participated in so far.
This meet is also the first time the team has competed against the bigger schools in the Kansas City area.
Overall, Hays took last place with 22 points.
Their next meet, happening on Jan. 15, is a home meet.
200 Medley Relay – N/A
200 Freestyle – Carson Ackerman (2:41.97) 23rd
200 Individual Medley – N/A
50 Freestyle – Scout Perryman (26.07) 18th, Brett Bowles (27.47) 27th, Chris Isbell (30.97) 34th, Ashton Koerner (32.39), Tate Kaiser (34.87), Treyton Schumacher (35.12)
100 Butterfly – Dustin Rajewski (1:47.69) 25th
100 Freestyle – Brett Bowles (59.09) 13th, Scout Perryman (1:00.63) 18th, Alvaro Esnaola (1:09.25) 29th
500 Freestyle – Carson Ackerman (7:08.49) 17th
200 Freestyle Relay – Brett Bowles, Marshall Perryman, Matt Goodale, Scout Perryman (1:47.05) 12th, Alvaro Esnaola, Adam King, Chris Isbell, Carson Ackerman (2:02.56) 20th
100 Backstroke – Marshall Perryman (1:15.41) 8th, Matt Goodale (1:18.50) 14th, Adam King (1:37.94) 25th
100 Breaststroke – Kayson Unsworth (1:32.40) 24th, Andrew Prine (1:36.31) 25th, Chris Goodale (1:37.57) 27th
400 Freestyle Relay – Chris Isbell, Andrew Prine, Dustin Rajewski, Ashton Koerner (5:21.62) 17th, Chris Goodale, Tate Kaiser, Kayson Unsworth, Adam King (5:23.61) 18th
19sperryman@usd489.com
About the Writer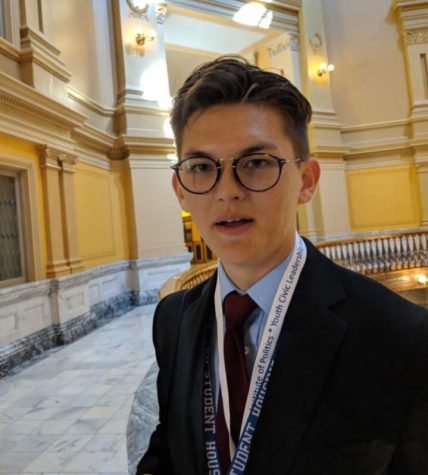 Scout Perryman, Staff Reporter/Cartoonist
Scout Perryman is a big, bad, senior. He is only doing newspaper because he would get yelled at by Isabelle if he did not. Scout's eyebrows are always...