Boys swim team places fifth in first meet of season
Hang on for a minute...we're trying to find some more stories you might like.
In their 2018 – 2019 debut swim meet, the boys swim team places fifth amongst six teams in Salina. The Salina Central swim meet hosted Salina South, Campus, Great Bend, Garden City, Hays and Liberal.
The team saw success individually with junior Isaac Smith qualifying for state in the 100 butterfly and the A team 200 Freestyle relay coming just short of a state qualification.
"The meet went pretty good," freshman Chris Goodale said. "I swam fast and the team did great."
The Salina meet was a new experience for the new freshmen swimmers. Regardless, almost every swimmer improved in some way.
"The returners did really well and they all took times off," Head Coach Faith Schindler said. "The new guys adjusted well to the flow and swam phenomenally."
The team will swim in Great Bend next week on Dec. 4.
200 Medley Relay – Marshall Perryman, Brett Bowles, Scout Perryman, Isaac Smith (2:04.60) 7th
200 Freestyle – Carson Ackerman (2:33.47) 10th, Skylar Zimmerman (2:45.82) 14th, Jacob Miller (2:57.00) 15th
200 Individual Medley – Brett Bowles (2:52.77) 11th
50 Freestyle – Tate Kaiser (33.63) 16th, Andrew Prine (33.96) 17th, Treyton Schumacher (36.06) 18th
100 Butterfly – Isaac Smith (58.36) 2nd, Scout Perryman (1:20.58) 10th
100 Freestyle – Brett Bowles (1:02.14) 10th, Alvaro Esnaola (1:18.00) 15th, Adam King (1:21.04) 17th
500 Freestyle – Carson Ackerman (7:06.78) 8th, Dillon Gray (8:37.02) 12th
200 Freestyle Relay – Scout Perryman, Jacob Miller, Brett Bowles, Isaac Smith (1:50.11) 5th, Marshall Perryman, Carson Ackerman, Alvaro Esnaola, Matt Goodale (1:59.40) 12th, Chris Goodale, Tate Kaiser, Andrew Prine, Treyton Schumacher (2:25.59) 16th, Dustin Rajewski, Dillon Gray, Skylar Zimmerman, Adam Kind (2:24.30) 23rd
100 Backstroke – Marshall Perryman (1:18.11) 8th, Matt Goodale (1:20.36) 10th
100 Breaststroke – Skylar Zimmerman (1:35.66) 14th, Andrew Prine (1:36.21) 16th, Chris Goodale (1:41.94) 17th
400 Freestyle Relay – Chris Goodale, Tate Kaiser, Skylar Zimmerman, Treyton Schumacher (5:42.98) 11th, Carson Ackerman, Alvaro Esnaola, Jacob Miller, Matt Goodale (DQ), Dustin Rajewski, Andrew Prine, Adam King, Dillon Gray (DQ)
19sperryman@usd489.com
About the Contributors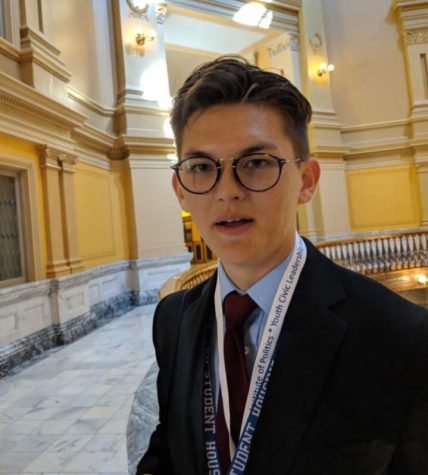 Scout Perryman, Staff Reporter/Cartoonist
Scout Perryman is a big, bad, senior. He is only doing newspaper because he would get yelled at by Isabelle if he did not. Scout's eyebrows are always...