Cross country competes at WAC meet
Cross country girls ran a 4K at the WAC meet in Great Bend on Oct. 11. The winning team on the girls side with 34 points was Dodge City, followed by Great Bend (48), Hays (73), Garden City (76) and Liberal (121).  Sophomore Allison Shubert lead the girls to victory with a time of 16:36 and a 5th place all WAC medal.
"Everyone was telling me the person that was in front of me was 5th," Shubert said. "I just had it set in my mind that I was going to pass her."
Others who competed were junior Yesenia Maldonado, 11th, 16:45; freshman Landri Dotts, 17:04, 16th; sophomore Claire Shippy, 17:12, 19th; freshman Lainey Hardman, 17:41, 25th, sophomore Cristina Leos, 17:58, 29th; senior Ady Albers, 18:41, 37th, freshman Kambri Bogart, 19:01, 39th and freshman Rachel Windholz, 19:44, 42nd.
Head coach Jerold Harris was very proud and felt that the ladies ran extremely well.
"Our five person pack time of 1:05 will help us in our next battle, the Regional meet," Harris said.
The boys ran a full 5K and winning the meet with 33 points was Dodge City. Great Bend took second with 38 points followed by Garden City (76), Liberal (78), and taking fifth was Hays with 145 points.
Junior Grant Brungardt lead the boys with a time of 18:34 and a 26th place finish. Others who competed where freshman Bryden Hines, 19:00, 31st; junior Conner Cunningham, 19:03, 32nd; junior Nathan Erbert, 19:58, 37th; Chris Isbell, 20:08, 38th; freshman Landon Viegra, 20:114, 39th; sophomore Fernando Zarate , 20:31 and senior Corey Hale, 21:11, 40th.
Harris was also proud of how the boys competed.
"Many season and personal bests for our guys," Harris said. "They attacked the middle of the race and had strong finishes."
20ymaldonado@usd489.com
About the Writer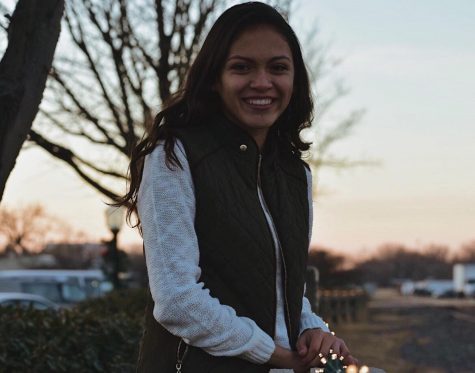 Yesenia Maldonado, Staff Reporter
Yesenia Maldonado is a junior and is in her first year of Newspaper. When she isn't running or listening to Khalid she's either spending time with...