Alumni return to face current soccer team
The alumni scrimmage comes around every year, enabling alumni of all ages to come and to play the current soccer team, have fun and eat some watermelon.
Senior Michael Reyes said he looks forward to playing the alumni every year and looks forward to next year so he can see all his boys and have some fun.
"I like playing against the alumni because they go hard on us and it makes us more physical and stronger," Reyes said.
Senior Tanner Hunsicker said it's fun seeing all the former players and seeing if they are still good.
"My favorite memory of all my alumni games is beating the alumni," Hunsicker said. "I might come back to play with them in the future.
The scrimmage is something that alumni look forward to every year as well.
"It was very fun and I got to enjoy seeing everyone and seeing all the older people that I played in high school," alumni Mikey Ploutz said. "Now playing with them is pretty cool. I'm definitely going to be coming back for future alumni games, because what's better than kicking some high schoolers' butts."
Ploutz said his favorite part about playing in the alumni scrimmage was that it brought back some good memories of playing soccer and seeing how the high school team would be.
From a coach's perspective, Coach James Maska uses the scrimmage as a way to determine varsity and junior varsity players
Along with just having the coaches watch, assistant coaches Devin Schmit and Kellen Griffin played to get a different perspective on the field instead of just the sideline.
"It was interesting," Schmit said, "I was more concerned about how the other attacking players at this level were going to think of the high school's team. Normally, I'd be more worried about winning as the alumni team, but since I'm coaching now, I was thinking about what to tell the team.
Griffin said it was nice to see all of his old teammates and former players, as well as getting to catch up with all of them.
"Since I did not play a whole lot, I didn't notice it as much as some of the other guys probably did," Griffin said.
Griffin said that he would like to play in future alumni games assuming he can still run.
My favorite part of the alumni scrimmage is how the alumni teach the younger players while playing. It shows how much they care about the game of soccer," Maska said.
"The alumni scrimmage allows the coaches to see the player's skill level in a game situation versus just practice." Maska said.
19jmaska@usd489.com
About the Contributor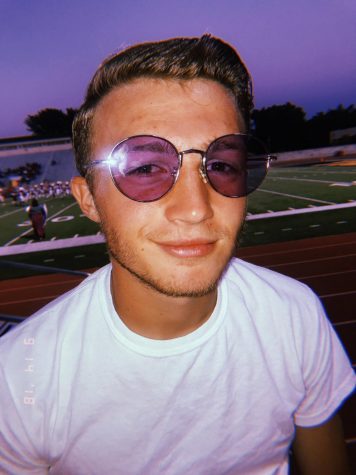 Jacob Maska, Photo Editor
Jacob Maska, a four year member of the Guidon staff and former Sports Editor and current Photo Editor. Maska has played soccer for all four years of his...