Chamber Singers perform Cabaret show
Hays High Chamber Singers spent Feb. 20 and 21 at the Hays Community Theatre for their annual Cabaret performance.
Cabaret is a collection of acts that are typically from musicals. The Cabaret gives the singers a chance to shine, where each student participates in at least one act; many students do solos, duets or small groups.
Alex Underwood, instructor of the Chamber Singers, organized the acts in five sets that the songs fall under. In the first set, the theme of the songs were "Opening Numbers." Senior Carson Brooksher and sophomore Beth Bowles started off the night with Tick Tick Boom's "30/90." Senior Sam Vesper followed with a solo from Little Women in "Astonishing." Junior Quinton McGuire and junior Seth Tripp sang "Kite" and "Beethoven Day" from You're a Good Man, Charlie Brown. Juniors Jay Patel and Carter Normandin closed off the set with "Sing" from the TV show Glee.
The second set, "Love-Related Songs," started with "Green Dress" from Tick Tick Boom, sang by sophomores Beth Bowles and Eric Lucio. Junior Spenser Mills followed with "When He Sees Me" from Waitress. "Single Man Drought" from I Love You, You're Perfect, Now Change, was sang by sophomore Ellie McGuire and juniors Anthony Arial, Allie Straub and Seth Tripp. Arial and Tripp stayed on the stage and were accompanied by Spenser Mills and senior Mazzy Lane for "Blue" from Heathers. The set closed with "Bosom Buddies" from Mame by juniors Devlyn Jochum and Kiki Gonzales.
In the "Frustrated with Love" set, Tripp and senior Shirley Lee started it off with "Therapy" from Tick Tick Boom. Gonzales sang "Happily Ever After" from Once Upon A Mattress. This was followed by "We Don't Talk About Bruno" from the Disney movie Encanto, sang by juniors Calliope Green, Arial, Jochum and Gonzales, as well as freshman Oscar Flores. Next was "Farmer Refuted" from Hamilton, sang by sophomores Nate Henderson and Lucio. The finale to this set was "Listen" by Beyonce, sung by senior Lee.
"Sad Songs," the fourth set, was led off with "Why" from Tick Tick Boom, sung by Brooksher. After that, the "I Love You Song" was sang by seniors Vesper, Sydney Wittkorn, Mazzy Lane, Brooksher, Gabe Nichols and Colton Dodd. After that, sophomores Dakota Normandin and Brynn Kinderknecht sang "Some Things Are Meant To Be" from Little Women. Jochum closed the set with "Wishing You Were Somehow Here Again" from The Phantom of the Opera.
The fifth set, "Songs of Empowerment," began with sophomore Sam Albin's "Live Out Loud" from A Little Princess, The Musical. Next was Vesper and Wittkorn's "You Love Who You Love" from Bonnie and Clyde. The following piece was "Guns and Ships" from Hamilton, sung by junior Remy Stull, Henderson and Lucio.
To close the show, the entire group joined together to sing "Louder Than Words" from Tick Tick Boom.
24elucio@usd489.com
Leave a Comment
About the Writer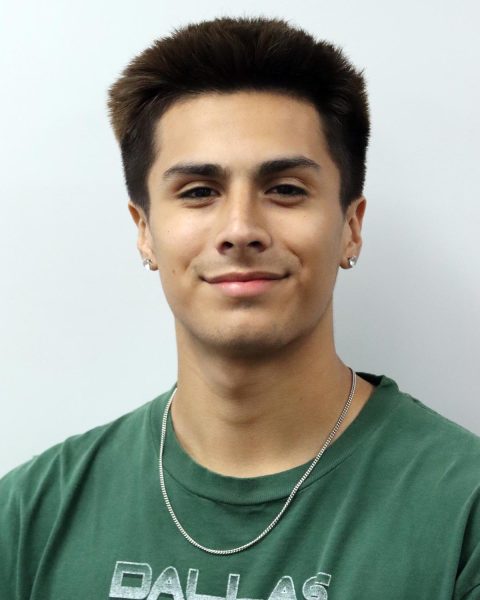 Eric Lucio, Design/Multimedia Editor
Hi, my name is Eric Lucio, and I am a senior. I am the design editor for the newsmagazine, so I make the covers on our newsmagazine. This is my third year...