Hays students soon to compete in KU Night at the Lab
On Dec. 10, Hays High will be presenting their projects for KU Night at the Lab regionals. The students will be presenting their projects online this year at regional and state competition due COVID-19.
After the presentations, the projects will be judged, and the top places will be going to state competition. The contestants going to state will have time to improve their projects after regional competition.
"Truly, KU Night at the Lab has been hard this year because [science instructor] Mrs. [Lynn] Zimmerman sadly has been ill, but my favorite part about this all is learning about things I never knew existed," senior Aaliyah Neuburger said. "Plus, if we do KU Night at the Lab, Zimmerman lets us take out a test grade."
There are many sciences and studies in the projects being presented
Seniors Kassidy Bergling and Allyson Werth are presenting "Carpal Tunnel Syndrome," and seniors Seren Sumaya, Grace McCord and Ashlynn Flax are presenting "Implant Associated Infection."
Seniors Lainey Hardman and Jocelyn Rigler are presenting "Osteomyelitis," and seniors Landri Dotts and Caroline Robben are presenting "Adolescent Idiopathic Scoliosis."
Seniors Shelby Alexander, Elizabeth Clingan and Lauren Miller are presenting "ACL Injury – Arthroscopy," and seniors Kennedy Brown and Neuburger are presenting "UCL Injury – Tommy John Surgery."
Senior Nate Brooks, senior Ashton Hernandez and junior Grayson Walburn are presenting Rotator Cuff Injury, and seniors Beso Ghunaim, Ethan Gregory and Tea Hartman are presenting "Knee Meniscus Injury."
Seniors Hayli Meyer, Tyler Solida and Samantha Vesper are presenting "Bone Grafting," and juniors Rylee Burd and Sarah Zimmerman are presenting "Total Hip Replacement."
Juniors Meg Taggart, Amelia Jaeger and Trayton Roa are presenting "Total Knee Replacement."
24elucio@usd489.com
Leave a Comment
About the Writer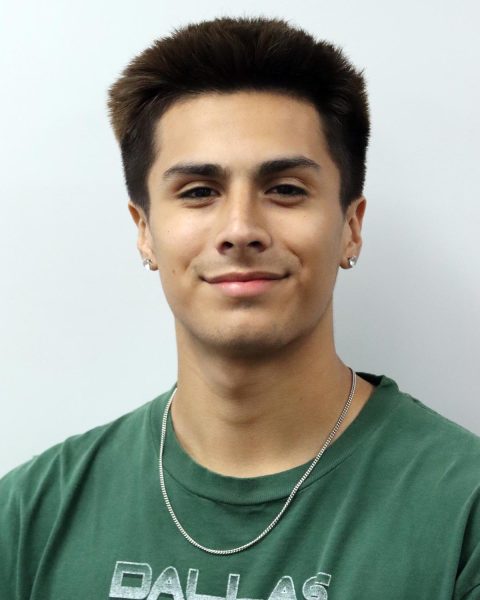 Eric Lucio, Design/Multimedia Editor
Hi, my name is Eric Lucio, and I am a senior. I am the design editor for the newsmagazine, so I make the covers on our newsmagazine. This is my third year...