Students learn to adapt to new COVID protocols
With staff and students back at Hays High, they have been adjusting to another year of uncertainty because of COVID-19.
Last year, masks were required for all staff, students and visitors, temperature checks were taken as students entered their first class, hand sanitizer and sanitizing wipes were used, quarantine guidelines were more strict, social distancing was highly enforced when possible and assemblies were not held.
This year, protocols for COVID-19 have been uncommon, with students not having to wear masks, use hand sanitizer, clean off desks or social distance.
During the first few weeks of the school year, if students come into contact with a positive case, it was up to the parents to decide if they wanted their children to quarantine.
On Sept. 3, the district released updated quarantine guidelines, which were the first protocols set for the 2021-2022 school year.
The new guidelines state that, if a student comes into contact with a positive case, he or she must quarantine for 10 days, unless they are fully vaccinated. Students are not allowed to test out of quarantine, and that is a change from the 2020-2021 school year.
The quarentine guidelines have been cahnged as well, with students either having to wear a mask or have those students remain home for 10 days.
With these new guidelines, events at Hays High have started to pick up; for instance, Student Council has started planning the first Homecoming dance in two years.
"This year, we are having to consider outdoor venues and come up with plans that can be modified if COVID would affect our original plans," StuCo vice president senior Grace McCord said. "There aren't any specific protocols that are making planning difficult, [but] the hard part is anticipating what COVID will do and how that will affect our plans."
StuCo officers and sponsors are working on various plans and ways to have in case rules do change.
"It is a little difficult to plan without concrete COVID rules and guidelines, but I am sure it's easier this way rather than having strict rules," McCord said. "We are just figuring out everything as it comes, and that's okay."
The school year has brought uncertainties again, but the students and staff at Hays High, and especially the StuCo members, have been very resilient.
"Right now, there are no concrete restrictions on Homecoming; we are having to just come up with a bunch of ideas and see which ones work best," McCord said. "Administration has been working with us to make this Homecoming as normal as possible."
The student body is looking forward to all of the festivities that comes with a traditional Homecoming, especially after not having one last year.
"We have modified plans for everything, so hopefully, we can carry on as usual, but if not, all of our backup plans are intended to involve as many students as possible and be as close to normal as can be," McCord said.
For StuCo sponsor Jayme Goetz, who took over StuCo with Luke Lundmark this year, this is a completely new area for her.
"We are in constant communication with [school nurse] Mrs. [Jessica] Roe and [Ellis County Health Department director] Jason Kennedy to ensure that all activities are safe and able to take place," Goetz said. "There are definitely some hurdles we have had to overcome, but we are hopeful this year will be a great one."
These levels of uncertainty make it a lot more difficult while planning the events that StuCo want to carry out for this year.
"With protocols in place, we have clear instructions on how to proceed and what to avoid, and if any changes come around, they would be loosening the restrictions," Goetz said. "With the lack of protocols, we must predict what we think the numbers will look like and have plan A through Z just in case."
The StuCo officers and sponsors have been working overtime trying to come up with various plans to provide the students and the community with the most normal Homecoming as possible.
"With all of the unknowns, we have several plans in place dependent on what the numbers will be at the time of Homecoming," Goetz said. "We plan to have a Homecoming that is as normal as possible, as safely as possible."
22bschwien@usd489.com
Leave a Comment
About the Contributor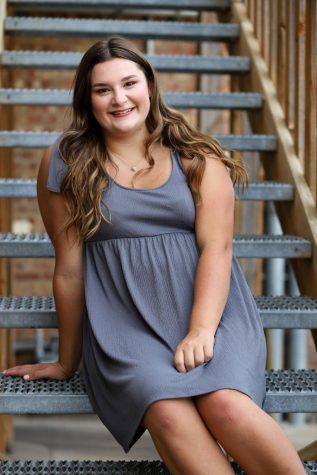 Brenna Schwien, Co-Editor In Chief
Brenna Schwien is a senior, and it is her third year in newspaper. She is involved in softball, Spirit Club, Environmental Club, Student Council, Senior...