Sophomores earn district office seats in next school year
While students are planning their next year of high school, sophomores Amelia Jaeger and Karli Neher have applied to be a part of the next year's Future Farmers of America Northwest District officer team in Kansas.
Jaeger, a student athlete for the cross country and track teams, is competing for a district officer seat. Jaeger submitted an application, not knowing how the application process was going to be handled. After sending her application in to the district advisor, Jaeger had to wait to get in an interview with the current FFA district officer team.
"I thought it was weird having to interview with this year's district officer team," Jaeger said. "It really wasn't what I expected, and the questions used in the interview were easier to answer then the answers on the application."
With COVID-19 affecting how the organization is being run at the local, state and national levels, the girls said they to be able to have a normal year in office next year, if they are elected.
"One thing that we do as a district officer is we will go check up with chapters and have workshops set up for the designated FFA chapter," Neher said. "Another thing we do as officers is we will send congratulations cards out to the members that place at competition, but with COVID-19, this year's officer team is not able to do that. I do hope that next year we are able to do are full duties and not have to sit and only do this virtual, as this past year's group."
Neher already has leadership roles throughout the Hays High's local FFA chapter, being the chapter's secretary; she has also helped organize multiple events for FFA members.
"As an officer here in Hays, I have helped out my chapter out a lot, and being able to try and pull strings for the events during COVID-19 have been hard, but they have been great to come to fruition," Neher said.
With Neher's perseverance and leadership, she said she hopes to be elected as district president or vice president.
"I was so happy to hear that I was going to have the ability to have the district president spot after all the interviews were over," Neher said.
About the Writer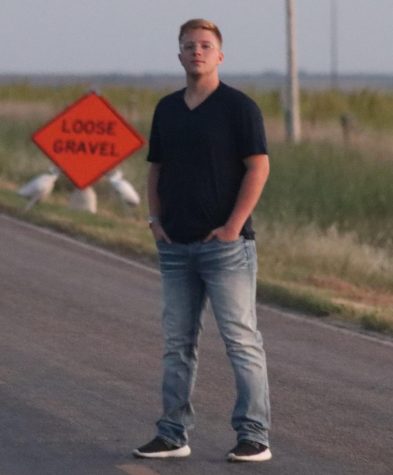 Cayden Sanders, Staff Reporter
Cayden is a senior this year, and this is his first year in newspaper. He is also involved in FFA. He loves to throw darts and take sports photography...