Spring Play prepares for live performances March 11-13, limited crowds due to COVID-19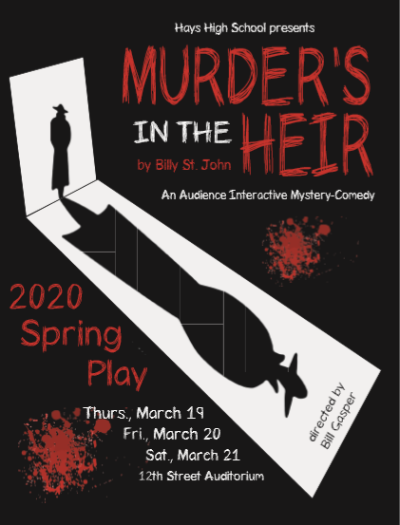 With last year's Spring Play, "Murder's in the Heir," getting canceled due to COVID-19, the cast will be performing the same play over again, with a limited live audience March 11-13 at 12th Street Auditorium. There will be no general admission this year, and no tickets will be available for purchase at the door.
Each cast member was given four free tickets per night to share with family and friends. The crowd will be less than 75 people, they will be spaced out in the rows and everyone will be required to wear masks inside during the performance.
By repeating last year's production, director Bill Gasper saved money on royalties, building costs, play books and more.
"Since we had to cancel last year, we made no money," Gasper said. "We could've started with a new [play], but it would've been costly, and I would've had to charge admission. I just don't know if that would've worked."
With a drop in cast members due to graduated seniors and other students who were unavailable to participate this year, Gasper casted senior Gabe McGuire and juniors Stanna Flinn, Carson Brooksher and Mazzy Sacia to fill the open roles.
The production was also filmed by  Tribe Broadcasting students on the Spring Play cast, including McGuire, senior Dustin Knoll, and sophomore Spenser Mills-Kulmala.
The group divided up the work of getting wide shots of the full stage and close-ups for more specific interactions between characters, as well as filming a fresh promo for this year to include the new cast members. The final product will be edited together with music and will be released on Tribe Broadcasting's YouTube channel.
Above all, Gasper said that he hopes everyone stays healthy and that this year's efforts result in successful live shows moving forward, as well as a decent film for the actors to share with friends and family in the future.
21cleiker@usd489.com
About the Contributor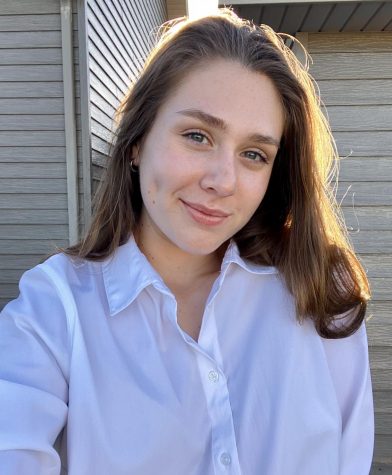 Caitlin Leiker, Assistant/Online Editor
Caitlin Leiker is a senior, and this is her third year in newspaper. She is involved in Chamber Singers, Musical, Spring Play, National Honor Society,...