Mike Pence, Kamala Harris participate in only vice presidential debate
On Oct 7, from 8 p.m. to 9:30 p.m., Vice President Mike Pence and Senator Kamala Harris participated in the only vice presidential debate of 2020 in the University of Utah in Salt Lake City.
The two displayed their sides of several different prominent current issues with Susan Page, the Washington Bureau Chief of USA Today, as the moderator.
The first segment was about coronavirus. Harris was asked about what the Biden administration would do about COVID-19 that the Trump administration did not do.
The next question was, "Why is the U.S. death toll as a percentage of our population higher than any other wealthy country?" where Pence insisted that Trump had taken the necessary steps to protect American citizens.
The final COVID-19 related question was, "How can you expect Americans to follow your safety guidelines if you the White House don't?"
The next segment concerned the role of the vice president, referencing both presidential disability and the availability of health information about the candidates.
The third segment was about the economy. Page questioned the candidates about what raising taxes would result in. Harris said, "[Biden] will not raise taxes on anyone who makes less than $400,000 a year."
The fourth segment touched on justice and laws, mentioning both thoughts on abortion and the Breonna Taylor case.
The final question of the fourth segment was, "If President Trump refuses a peaceful transfer of power, what would happen next?"
Harris just encouraged voting in any way a person can, while Pence brought up the fears of voting fraud.
The final question was one submitted as a school essay written by Brecklyn Brown, an eighth grader from Springfield, Utah. Brown wanted to know, "If our leaders can't get along, how are the citizens supposed to get along?"
The question led to a positive ending and an agreement between the two candidates: they both promote the young people of the country and value their votes.
"I thought [the debate] went really well for both parties," sophomore Hannah Eikenberry said. "I thought it was a very educated debate, and I found myself learning more about their individual policies than I thought I would."
Leave a Comment
About the Contributor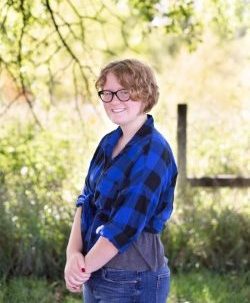 Emry Lundy, Copy Editor
Emry Lundy is a senior, and this is her second year in newspaper. She is involved in the Fall Musical, Spirit Club, Leadership Team and Scouts, and she...