Hays High principal recognized as Northwest Kansas KMEA Administrator of the Year
In late August, principal Martin Straub was awarded the title of Northwest Kansas KMEA Administrator of the Year.
According to KMEA's website, the award's qualifications include "showing special support for the arts as an indispensable part of the school curriculum," as well as their "personal attitude and philosophy, program development and improvement, sensitivity to the special needs of space, scheduling, equipment, leadership in providing opportunities for professional growth of teachers, and leadership in providing local community and financial support."
Orchestra instructor Joan Crull, as well as the other instructors in the Music Department, believe that this description fits Straub perfectly.
"He consistently backed the Music Department when [vocal instructor Alex Underwood and I] asked to add another music position a few years ago to lighten [our] teaching loads," Crull said. "Also, he asks how he can help with our budget and supplies, and really looks out for us, doing all he can to get us what we need."
Straub's resume, bio and letter of reference detailing what he has done for the school have already been sent in, and Crull is checking with the Northwest KMEA president to see that Straub's nomination is forwarded to the state level for competition.
"I think we should have strong academics, and I think we should have strong athletics, but along with those, I think we should have strong technical arts and fine arts," Straub said. "It isn't just music. Whether it be drawing or painting or computer graphics, I think the creative side of the brain is what we don't hit very often, and I think music especially brings out the best of us."
Straub said that the ability to compete with others and with ourselves is what drives us towards improvement in different areas of our lives. He also said that as a school, we should find ways to include all types of students on their journey to excellence.
"I was very involved in music when I was [in high school]," Straub said. "I think that some of my most favorite memories had little to do with whether I got good grades, and more to do with the musicals and the athletic events, and Forensics."
Crull also said that Straub is "very complimentary of the music students," and does not shy away from acknowledging their accomplishments.
"He comes to all the concerts that he's able to, and he's interested in what we're all doing," Crull said. "In short, we always feel that he has our back."
21cleiker@usd489.com
About the Writer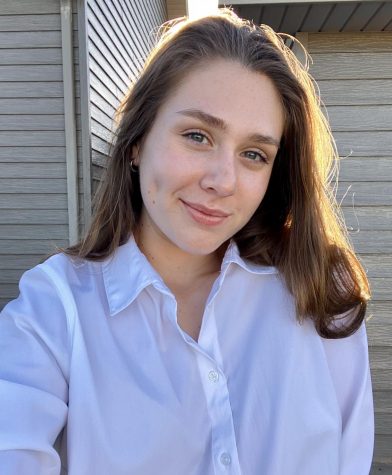 Caitlin Leiker, Assistant/Online Editor
Caitlin Leiker is a senior, and this is her third year in newspaper. She is involved in Chamber Singers, Musical, Spring Play, National Honor Society,...