"RENT" is a resounding success
"RENT," Hays High's musical was heartbreaking, yet uniting, and was very well performed despite the shorter rehearsal window the cast and crew had this year.
The show started with several microphone issues on May 14, but soon moved to the choppy and ragged first song that introduced the main characters and their problems.
It moved onto the lovely legato of "One Song," sung by senior Tom Drabkin, who played Roger, which quickly escalated into sharp, cutting emotion and desperation.
The feeling on stage shifted to the flirty strength of senior Alisara Arial's voice as Mimi in "Light My Candle."
The lighting and scenery fit every moment well. For example, the support group meeting took place in a secluded, black-painted corner that served to make it seem smaller, yet safe and close-knit. The stage was set with scaffolding and a pile of artistically stacked junk lit in colored lights adorned the corner reminiscent of a Christmas tree. A part of the back wall served as a screen that changed to fit with whatever the scene needed.
At the beginning of the second act, during "Seasons of Love," a slideshow made in memory of those who have lost their lives to COVID-19 played behind the cast as they sang in a heartwarming memorial.
The more serious elements of "RENT," such as drugs, AIDS, poverty and prosecution because one's sexuality, were offset with a variety of songs and dialogue bits full to the brim with comedy. They were timed and acted perfectly.
Most notably was senior Caitlin Leiker's "Over the Moon," as the eccentric Maureen. Leiker encouraged the audience to moo with her, making it one of the more memorable songs. Other wonderfully funny scenes and bits of dialogue include sophomore Seth Tripp's "Honest Living" chant as the Squeegieman and any of sophomore Brooke Leiker's bits as reporter Alexi Darling through the phone.
The second act was wrought with emotional turmoil, from the division of lovers to the loss of friends, all superseded by Angel's death and later Mimi's near death. In the end, though, the characters learned to embrace the life that they have despite the trouble that will inevitably come.
A "year in the life" showed them what was truly important. Love, relationships and the people we find ourselves with in the hardest times were features in Mark's film, showing what he found truly important.
Leave a Comment
About the Contributor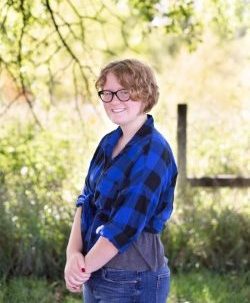 Emry Lundy, Copy Editor
Emry Lundy is a senior, and this is her second year in newspaper. She is involved in the Fall Musical, Spirit Club, Leadership Team and Scouts, and she...