'Ralph Breaks the Internet' worthwhile production
"Ralph Breaks the Internet" came out to theaters in the United States on Nov. 21.
"Ralph Breaks the Internet" is the sequel to the movie "Wreck it Ralph" which was released in 2012.
The characters in first movie are characters in different video games in an arcade. At night, the characters can travel to different to different arcade games through the cords plugged into a surge protector. In 'Ralph Breaks the Internet,' the arcade acquires a Wi-Fi router. This opens up a whole new world for the arcade game characters.
The two main characters in this movie are Wreck It Ralph (voiced by John C. Reilly) and Vanellope von Schweetz (voiced by Sarah Silverman). When an incident happens in the arcade where a child playing Vanellope's game – 'Sugar Rush' – accidentally breaks the steering wheel on the game, the owner of the arcade, Mr. Litwak, is forced to put the game as 'out of order.' Even when the kids at the arcade look up where to get a new wheel for the game, Mr. Litwak says that he can't afford it, therefore saying he has no choice but to unplug the game completely and get rid of it for parts.
Characters in 'Sugar Rush' leave their game before it becomes unplugged, and fortunately, characters in other games offer their homes to the homeless characters. Vanellope, however, is unable to get over the fact that her entire life has been stripped away from her. To make Vanellope happy, Ralph comes up with the plan for him and Vanellope to go to the internet to try to find the piece needed for the game.
For a sequel, "Ralph Breaks the Internet" does a great job. It has the characters everyone loves from the first movie with a plot line that's different enough it doesn't seem like a repeat of the first movie. Additionally, adding cameo's by many popular characters everyone knows, and even making references to pop culture icons such as Bob Ross, help keep this sequel current and fun.
The theme in this movie has to deal with how life doesn't stay the same, but those who truly care about you will stick around when everything else changes. The film is good for people of all ages. I would rate this movie a 10/10.
21mmcbride@usd489.com
About the Contributor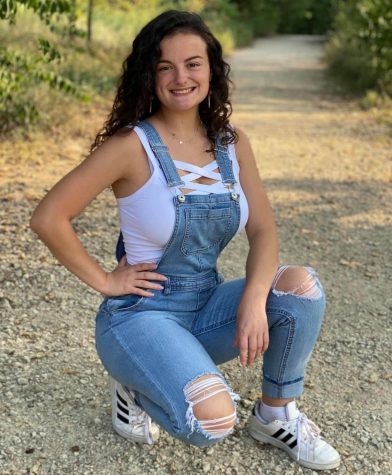 McKena McBride, Assistant/Online Editor
McKena McBride is a senior, and this is her third year in newspaper. She is involved in tennis, StuCo, National Honor Society, Leadership, Yearbook, Red...