Top 20 unique college majors
Having trouble deciding on a college major or finding possible career paths? See if any of the unorthodox majors below spark some inspiration!
 1. Auctioneering
"Our experienced instructors will help you transition into an effective auctioneer. As you complete our program, you will develop an auction 'chant,' use appraisal sources and techniques, procure merchandise for auction, and define and discuss legal issues related to auctioneering…" (for full list, click the link) – Harrisburg Area Community College / Harrisburg, Pennsylvania
Job Opportunities: As you could have easily assumed, you can work as an auctioneer!
Salary: $40,000 – $64,000
 2. Bagpiping
"Aspiring and seasoned pipers alike have been selecting to attend Carnegie Mellon's School of Music as Bagpipe Performance majors for over 75 years. Bagpiping, as an art form, has long been a unique part of our Carnegie Mellon traditions (thanks to the strong Scottish heritage of our founders Andrew Carnegie and Andrew Mellon) and we are a perfect home for students who want to continue playing in a pipe band throughout their undergraduate years. Besides being one of only two schools in the U.S. to offer a 4-year degree in the art of Bagpipe Performance, Carnegie Mellon has its very own Pipes and Drums band made up entirely of current students and alumni." – Carnegie Mellon University / Pittsburgh, Pennsylvania
Job Opportunities: work as a bagpiper or can teach others how to play
Salary Range: $20,000 – $60,000
3. Folklore and the Supernatural
"This course will introduce key concepts in the study of culture and the supernatural. We will examine traditional beliefs about supernatural beings, supernatural realms, and humans who interact with these, as well as the historical development of Western ideas of "the supernatural" itself. The goals of this course are to: gain an introduction to critical concepts, approaches, and methods in the study of culture and the supernatural; enhance understanding of human diversity through the study of cross-cultural examples of supernatural folklore; and develop an understanding of the ways in which various genres of folklore have been used as vehicles for the expression of human relationships to the supernatural." – University of Pennsylvania / Philadelphia, Pennsylvania
Job Opportunities: Anthropologist, Folklore Journalist, Mythology and Folklore professor, Fiction writer
Salary: $50,000 – $75,000 per year
 4. Ethical Hacking
"This course will teach a student the knowledge and skills required to look for weaknesses and vulnerabilities in the computer systems and networks with a view to enhance defense against cyber-attacks. Students will also learn about Information System Security, Trojans, Viruses and Worms and understand the concepts of Cryptography and learn the steps to implement security controls to detect and prevent cyber-attacks." – Montgomery County Community College / Montgomery County, Pennsylvania
Job Opportunities: Information security analyst
Salary Range: $73,000 – $126,000
5. Astrobiology
"Students in the astrobiology program receive a broad education in areas that include planetary science, extrasolar planets, and the origin of life. At the same time, students take a solid core of mathematics, physics, and biology courses, allowing them to pursue a wide range of interests." – Florida Institute of Technology / Melbourne, Florida
Job Opportunities: Astrobiology educator or researcher
Salary Range: $60,000 – $95,000
6. Turfgrass Science
"This concentration integrates scientific theory with practical experience, and covers such topics as grass and seed identification, turfgrass culture and physiology, pest control, and equipment maintenance. Students in this concentration have the option of selecting a business management or a science focus." – University of Massachusetts Amherst / Amherst, Massachusetts
Job Opportunities: Golf course maintenance or other professional lawn care
Salary: $30,000 – $66,000
7. Ecogastronomy
"The dual major in EcoGastronomy at UNH was the first of its kind at any university in the country. A partnership of the Paul College of Business and Economics and the College of Life Sciences and Agriculture, the program will provide you with a one-of-a-kind learning experience that links the fields of sustainable agriculture, regional cuisine and hospitality management, and nutrition. All students who declare the dual major in EcoGastronomy spend a semester abroad — in Ascoli Piceno, Italy; with a choice of spring, summer or fall." – University of New Hampshire / Durham, New Hampshire
Job Opportunities: Working in the restaurant industry, farm management, food policy, and nutrition and health assessment
Salary: $38,000 – $87,000
  8. Family Enterprise
"From understanding the family business system and key managerial issues to assessing the best incorporation strategies, the program will help you develop your own agenda for the future…It's the nation's first major and second-oldest minor in family business, with a board of advisors who keep the program grounded in practical, real-world experience and innovative and engaging programs." – Stetson University / DeLand, Florida
Job Opportunities: With such a degree, you can run a family business, or be a professional advisor for family businesses.
Salary: $40,000 – $80,000
9. Comedy
"Our Comedic Arts BFA is the first degree of its kind in the country. It integrates comedic writing, performance, literature, media, and production—and ranges across the comedic formats, from sketch comedy to improv to standup to Shakespeare… We foster well-rounded triple-threats: writers, performers, and producers who are awake and aware, and whose comprehension of the world affords them the ability to comment through humor." – Emerson College / Boston, Massachusetts
Job Opportunities: A comedian or comedy writer
Salary: $30,000 – $100,000
     10. Digital Currency
"After this course, you'll know everything you need to be able to separate fact from fiction when reading claims about Bitcoin and other cryptocurrencies. You'll have the conceptual foundations you need to engineer secure software that interacts with the Bitcoin network. And you'll be able to integrate ideas from Bitcoin in your own projects." – Princeton University / Princeton, New Jersey
Job Opportunities: A blockchain developer
Salary: $150,000 – $175,000
11. Gunsmithing
"With the successful completion of this program, a student will be able to do the following: Explain, in detail, the classifications, action type, and operating principles of all major types of firearms and exhibit best-practices of firearms, including firearms-repair safety, cleaning firearms, diagnosing, troubleshooting, and repairing a variety of common malfunctions, and assembling a firearm from parts…" (for full list, click the link) – Sonoran Desert Institute / Tempe, Arizona
Job Opportunities: Freelancer or working for a large production company
Salary: $28,000 – $50,000
12. Puppet Art
"The art of puppetry includes the making and manipulation of puppets for use in some kind of theatrical performance, for stage, television, or film… Based in tradition, the study may include shadow theatre, mask theatre, hand puppetry, rod puppetry, and marionettes, in reference to historical precedents and contemporary usage." – University of Connecticut / Mansfield, Connecticut
Job Opportunities: Theatre performance and design
Salary: $67,000 – $90,000
13. Pop Culture
"Majors will take the four of their required courses with other students from the units in the School of Cultural and Critical Studies (CCS) which includes American Culture Studies, Ethnic Studies, and Women's, Gender, and Sexuality Studies… In these courses, students will learn cultural studies theories and research methods, create their own research project, and engage in service-learning." – Bowling Green State University / Bowling Green, Ohio
Job Opportunities: public relations, journalism, advertising, etc.
Salary: $45,000 – $75,000
 14. Organ Performance
"Specialized work in the organ curricula includes courses in the history of organ literature and design, organ pedagogy, and seminars on repertory performance practice, the history of organ building, and related topics. Specialized work in the church music curricula includes courses in service playing, the history of liturgy, anthem literature, children's choirs, bell choirs, the church and the arts, theological aesthetics, the history of church music, and hymnology." – University of Kansas School of Music / Lawrence, Kansas
Job Opportunities: Performing at a variety of events, working for an orchestra.
Salary: $25,000 – $40,000
 15. Gender and Sexuality Studies
"Rider University's Gender and Sexuality Studies program explores the complex interactions among race, class, ethnicity, gender, and sexuality. Courses in Gender and Sexuality Studies explore the current debates on key issues such as reproductive rights, domestic partnerships, health, communication and law." – Rider University / Lawrence Township, New Jersey
Job Opportunities: human resources, a public relations director or health educator, advocate for victims of domestic violence and hate crimes, and many more
Salary: $60,000 – $80,000
 16. Comic Art
"As a Comic Art major, you will experiment with conventional and experimental aspects of comic storytelling, gain foundational skills in a variety of creative media, explore traditional and digital comic formats, and acquire the skills and knowledge for a professional career in comics." – Minneapolis College of Art and Design / Minneapolis, Minnesota
Job Opportunities: Those with a degree in comic art can work as a cartoonist or illustrator.
Salary: $28,000 – $57,000
17. Theme Park Technology
"You will build spaces and environments that bring stories to life across countless industries such as theme park design, cruises, museums, zoos, retail stores, restaurants, and more… You will collaborate with artists, designers, and other creatives to conceive, visualize, and realize your vision, and you will develop the visual communication skills of an artist and the problem-solving skills of a designer." – Ringling College of Art and Design / Sarasota, Florida
Job Opportunities: Working as an engineer in theme parks
Salary: $50,000 – $120,000
18. Adventure Education
"Adventure Education (AE) is a rigorous program in which students learn to become teachers, leaders, and professionals. As a major you'll take classes indoors and out, learn backcountry skills, intern in the industry, immerse yourself in an all-AE semester, conduct and present research, and collaborate with local organizations to solve real problems." – Fort Lewis College / Durango, Colorado
Job Opportunities: Outdoor education at a national park, or in a variety of outdoor adventure programs
Salary: $35,000 – $76,000
19. Surf Studies
"Out of the cultural, economic, sociological and technological influences of surfing, the field of surf studies was born. Its students are concerned with better appreciating the indigenous Hawaiian sport and understanding how far it's come – and where it's going. Topics as diverse as the history of surfing to scientific studies of the sport will be explored in Chaminade Summer Institute's Surf Studies in Hawaii." – Chaminade University / Honolulu, Hawaii
Job Opportunities: A surf coach or instructor, run a surf school, host surfing events, work in environmental sustainability.
Salary: $30,000 – $50,000
20. Farrier Science
"In the Farrier Science program, you will develop knowledge and skills in the current techniques required to maintain horse hoof and leg health, as well as troubleshooting common foot and shoeing problems. You will practice horseshoeing and gain a fundamental understanding of horse anatomy and physiology, preparing you as an entry-level farrier." – Sheridan College / Sheridan, Wyoming
Job Opportunities: a self-employed farrier or in the agricultural or equine industries
Salary: average $40,000 – $60,000
Did any of these unique majors pique your interest, or are you still feeling a little lost? A college major might not line up with whatever your future career might be, and that is okay. Here are some tips that will help you settle on a major that is right for you:
Try dividing things up into these categories: things you love, things you are good at, things that make money and things the world needs. Try to find some overlap that sparks interest in you and go from there.
Talk to people in some of the careers you might be considering or talk to older students and college advisors for advice on how to get your feet wet in your first year.
If you do not have a specific career in mind yet, look into majors that will let you explore a wide variety of job options (humanities / liberal arts majors are great for this).
Unless your heart is calling you to go to medical school or double major or do something with a large course load, try to avoid piling on hours and hours of classes with intense amounts of homework. Leave time for personal projects or hobbies, hanging out with friends, or getting a part-time job. Give yourself the opportunity to take a mental break when you need it.
Above all, remember this: your major does not determine the rest of your life. And you have time. Depending on what college you go to, they may have a class of students who have not declared their major yet because they are still exploring the possibilities. Try looking into a school with this option.
Just take it slow. You got this!
21cleiker@usd489.com
About the Contributor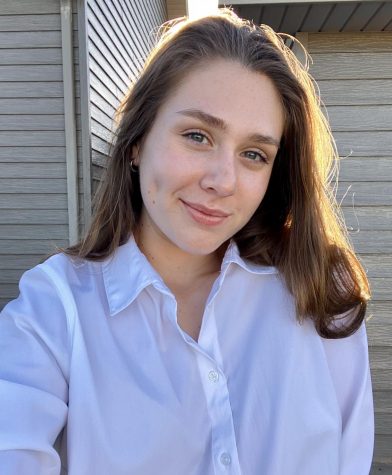 Caitlin Leiker, Assistant/Online Editor
Caitlin Leiker is a senior, and this is her third year in newspaper. She is involved in Chamber Singers, Musical, Spring Play, National Honor Society,...