Students compete at Youth Entrepreneurship Challenge, two out of five awards received
The Youth Entrepreneurship Challenge, organized by Grow Hays, took place at Brief Space on March 20. With approximately 30 registered projects, two student's projects were awarded out of the five possible awards.
Senior Jacob Maska placed third and senior Sydney Davis was awarded the "Ready to Launch," which means her business could essentially be opened tomorrow.
The two are a part of instructor Silas Hibbs' Entrepreneurship class. In this class, all students were required to participate in the challenge, and to do so, they were given eight weeks to prepare this project.
"It was open to Hays High, TMP, Victoria and Ellis High Schools to present an idea in front of three judges where students competed to win various cash prizes," Hibbs said. "They had about three to four weeks to write a very clear and concise executive summary that ranged anywhere from two to three pages in length. They also were given a couple of weeks to get a very fine tuned PowerPoint presentation available as well as their trade-show booth set up."
Hibbs said most of the competitors were from his Entrepreneurship class, but anyone was allowed to participate.
Maska was awarded $300 for his business called Maska Photography. Davis's business was Sydney's Sweets, and with her award, she was given $200.
"It means a lot to me because I started working on this website for a business about a year ago, but I never finished it," Maska said. "This class and this competition gave me a reason to actually push through it and actually fulfill the dream of having my own business."
Competitors presented to three judges who then critiqued them on three levels: the executive summary, the presentation and how they communicated their business to the judges.
While Maska said he knew what he was talking about, and that his business was his passion, he was still nervous about competing.
"The day before I was definitely nervous, so I opened up my presentation, my poster board of my business, and I started changing everything. I finally found what I thought looked good. Then the day came, and I was feeling pretty confident before, and then you get in front of those judges. You get really nervous, but you just have to push past it."
The Entrepreneurship class was invited to participate at the state competition in Manhattan on April 30. At this competition, higher cash prizes are awarded to those who place.
"I haven't decided right now whether or not I'm going to make it mandatory for those students to compete at state, but I know I have some students interested in competing on the state level," Hibbs said. "I thought it was a great experience, and I'd love to do it again in the future. I think, though we didn't take first or second, I really did see a lot of individual student growth throughout the course of the semester on business principles and practices. Though we aim for first and second, the real victory came in from the knowledge that was learned in the process by the students."
19ibraun@usd489.com
About the Contributor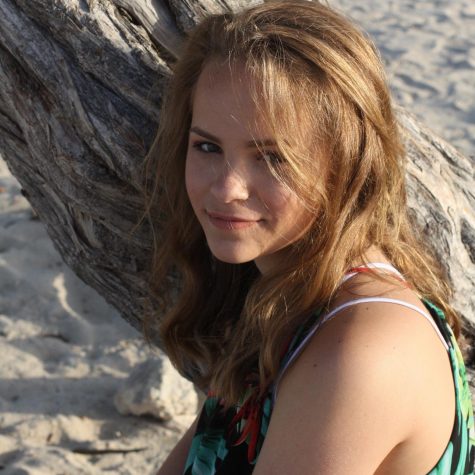 Isabelle Braun, Editor-in-Chief
Isabelle Braun is a senior who loves talking to new people and spending time with friends. She is very driven and plans to make her senior year the best...